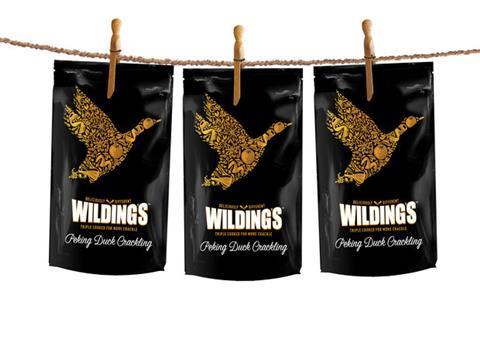 A Wiltshire-based start-up is bringing new flavour to the bagged snacks category while also tackling food waste.

Wilding Snack Foods has launched Duck Crackling, made from skin usually discarded by poultry suppliers.

Triple-cooked and flavoured with Peking seasoning, the product is high in protein and intended as an alternative to pork scratchings.

Duck Crackling (rsp: £2.55/25g) will be distributed by paleo food supplier Primal Snack Box, and is looking to expand nationwide through both off-trade and on-trade partners.

Wilding Snacks founder Adam Wilding is a former head chef in kitchens including London gastropubs The Harrison and The Beckford Arms. The inspiration for his crackling came from working with crispy duck skin as a canapé.

"It is notoriously difficult to make duck skin stay crispy, but I worked with a microbiologist to achieve both the perfect texture and a long shelf life," he said. "We source our skin from a Devon free-range duck farm, which saves it from being sent to landfill."

Wilding Snacks aims to introduce a range of products based on 'forgotten or neglected' ingredients that often go to waste. As well as further Duck Crackling flavours, including Chilli & Lemongrass and Sea Salt & Kampot Pepper, the business is looking at salmon skin as a base.