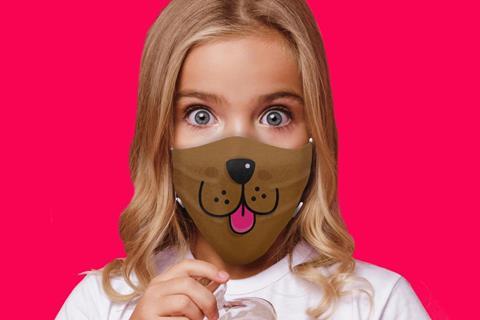 Toy company Wow Stuff is set to roll out Your-Face Masks, a kit to allow children to design and produce certified-safe face masks at home – a first for the UK, according to the supplier.
The new kit promises "game-changing technology" that means kids can create masks featuring their own designs or images from a phone or smart device. Via its app, Your-Face Masks will also 3D-map a selfie to ensure the facial image covers the mask "entirely and with life-like accuracy".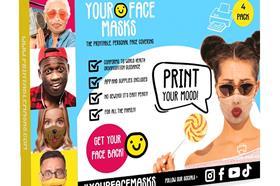 Masks can be made on a regular home inkjet printer using the kit's A4 sheets of 100% cotton sheets. The new product (rsps: £11.99/four masks & £24.99/10 masks) also includes filtration fabric inserts, elasticated ear loops, adjustable nose bands and iron-on web adhesive.
The Your-Face Masks app offers a video tutorial that promises to have users "crafting custom masks in three easy steps".
Sold under Wow Stuff's subsidiary company The Printable Face Mask Co, the new kit would go on sale "in a few weeks" at Argos, Debenhams and Amazon, said Wow Stuff – which has pledged £10,000 from sales to NHS Charities Together.
Your-Face Masks has "been tested to meet World Health Organization guidelines for barrier masks and AFNOR guidance on filtration and breathability" said Dr Graeme Taylor, Wow Stuff co-founder & head of R&D. "This is a game-changing first."
The company's CEO, Richard North, added that he hoped the new kit would "get more people wearing face coverings and feeling positive about that".
It comes after Aldi last week added "fashionable" masks for children are made from double-layered 100% cotton with soft elastic straps (rsp: £2.99/three-pack), featuring patterns such as pandas, spots and hearts.