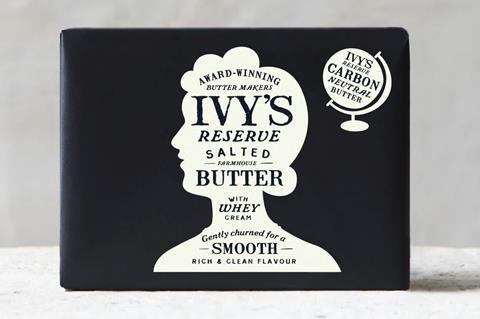 Wyke Farms is to launch the UK's first carbon neutral block butter under its Ivy's Reserve brand.
The Somerset-based supplier's Ivy's Reserve Salted Farmhouse Butter will be available from September, with Wyke said to be in discussions with retailers over potential listings now (rsp: TBC). The NPD will join Wyke's carbon neutral Ivy's Reserve Vintage Cheddar, which launched last year.
The creation of a new carbon neutral butter was made possible due to investment in a new "super-efficient" butter dairy powered by home-produced renewable electricity and gas. It was both energy and water efficient, the business said.
The new product is part of Wyke Farms' five-year plan for growth, underpinned by sustainably increasing volume and strategically targeting specific export regions worldwide.
Wyke Farms partnered with Carbon Trust to undertake a cradle-to-grave footprint analysis, which certified the footprint of Ivy's Reserve salted farmhouse butter as carbon neutral in accordance with PAS2050, an internationally recognised specification.
The company will now produce freshly churned butter with longer shelf-lives allowing for shipping to premium export markets, as well as driving a reduction in waste both in store and at home.
"Increasingly, people across the world are looking for premium dairy products with provenance and history – butter is no exception and Ivy's Reserve salted farmhouse butter is a best-in-class product in terms of quality and sustainability, and it articulates our unique set of values that fit with this trend," said Rich Clothier, managing director of Wyke Farms.
The butter is made with whey cream from cows in the southwest and is formulated according to Grandmother Ivy's secret family recipe.