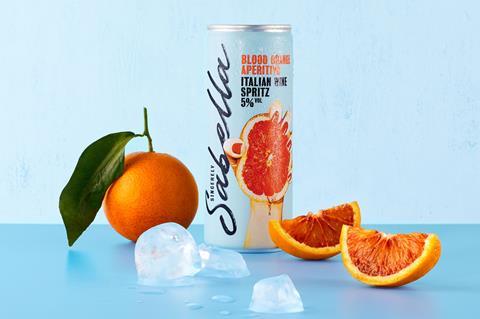 ZX Ventures, the innovation arm of AB InBev, has quietly launched Sincerely Sabella, an RTD wine spritz, in collaboration with design agency Robot Food.
The drink (5% abv) is made with Italian white wine, blood orange juice and blood orange bitters, and has rolled into Ocado and indies (rsp: £2.50/250ml).
Rather than "months of old-school product and brand testing", the drink's commercial viability was being tested in the market, said Robot Food founder Simon Forster. "It's about getting it out there, testing it with real consumers then making changes as we go, which is such a refreshing way to work.
"Marketing departments that continue to evolve based on modern consumers' needs and behaviours and lead the trends, rather than react to them, are the ones that are going to thrive."
The brand's founder, Kendra Kuppin, added: "There are a few intersecting needs at play – desire for lower alcohol products, decreased formality around wine and spirits, and movement towards high quality convenience products."