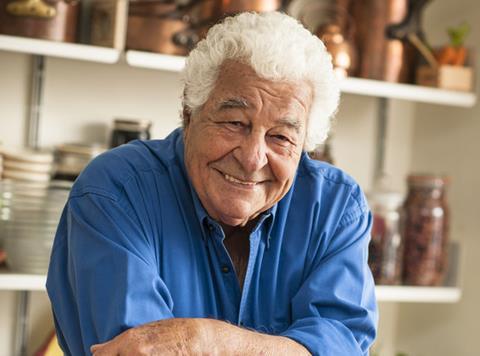 Tributes are pouring in for Italian chef and restaurateur Antonio Carluccio, who has died aged 80.

The chef, author and media personality came to the UK in 1975 after periods in Austria and Germany. Here, he became the manager and later the owner of Covent Garden's Neal Street Restaurant, where he gave Jamie Oliver his first job in London.

Oliver paid tribute on social media, referring to his "London Boss" as a "charismatic, charming don of all things Italian".

Carluccio is best known for his namesake restaurant chain, which began life as a single Italian food shop in 1991, expanding to become a wholesaler before opening the first Carluccio's Caffé as an integrated café and shop in 1999.
I'd like to dedicate tonight's episode of 'Italian Coastal Escape' to my good friend Antonio @CookCarluccio . Sending all my love to his family. I will remember the good times we had together xxxx

— Gino D'Acampo (@Ginofantastico) November 8, 2017
He came to be known mononymously as Carluccio following the success of the restaurants, which floated in 2005. The founder retained a 10% stake in the chain, and acted as a consultant to the business.

The chef wrote numerous books on Italian cooking throughout his career, becoming a household name and TV personality known for voicing strong opinions and taking a no-nonsense approach to food. Indeed, he remained active in the media, giving an interview in The Telegraph last month saying: "You only need two or three ingredients to make a wonderful dish."
So sorry to here of the passing away of one of our heroes Antonio Carluccio, you were one of the very best .. dave and Si

— Hairy Bikers (@HairyBikers) November 8, 2017
Celebrity chefs took to Twitter en masse to express their sorrow at his passing, with Rick Stein, the Hairy Bikers and his fellow countryman Gino D'Acampo all posting messages.

While he leaves behind no children, telling The Grocer in 2015 that "the relationship between me and my staff is like the relationship between father and son", Carluccio's restaurants issued a statement voicing its sadness.
Very sorry to learn of Antonio Carluccio's death I was very fond of him, loved his Italian enthusiasm for food and his avuncular style of cooking on TV ; so relaxed, so friendly Will miss him

— Rick Stein (@Rick_Stein) November 8, 2017
"It isn't just Antonio's name above our doors, but his heart and soul lives and breathes throughout our restaurants," said a Carluccio's spokesman.

"He was regarded as the Godfather of Italian cooking. Antonio has been a huge inspiration to many of us and his energy, zest for life and sense of humour will be greatly missed."