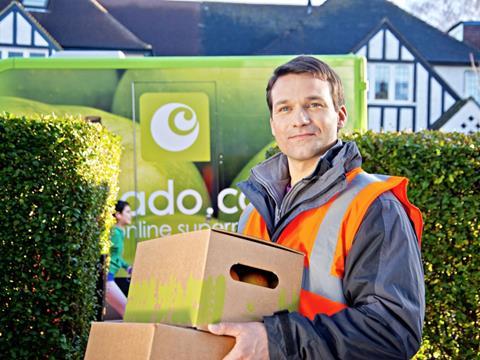 After a catastrophic late summer share price fall, Ocado has been quietly recovering ground in November.
Having dipped as low as 216p in October (it was trading at over 400p in late August), the online retailer has made its way back to 323p today. The traditional grocers won't now update the market again until post-Christmas, but Ocado has fourth quarter results in a couple of weeks and at least one broker sees plenty of cause for optimism.
The long term investment case for Ocado has for a while been based on the value and scalability of its proprietary technology and its ability to export its business through signing international licences.
Analysts at Jefferies said today they believe that 2015 could be the year that Ocado finally becomes an international business.
"The confirmation of Ocado as a supplier of food online solutions outside the UK would increase its addressable market in a major way," the broker said.
"Grocers worldwide continue to struggle to put together an economically viable online offer, and whilst we have taken issue with the capital intensity of the Ocado approach, the operational KPIs are markedly superior to those achieved by any multi-channel or pure-play operator globally. With this in mind, 2015 may well see the first delivery on the international promise."
It notes that the Q4 results themselves might not set off any market fireworks, with sales growth expected to slow slightly to 14% thanks to tough year-on-year comparatives.
However, if Ocado does make progress internationally, Jefferies predicts "the market the market would likely choose to extrapolate in a very bullish manner".
The boost from international businesses growth could, though, be dampened by issues closer to home.
Jefferies argues that Waitrose is "more likely than not" to invoke its March 2017 break clause (implying notice being served in September next year), meaning that customer flow could be disrupted by the lack of access to Waitrose own label products even if Ocado seamlessly finds other supply partners.
Ocado also needs to win the argument about the value of its technology in the face of City scepticism. The huge decline in Ocado's share price a couple of months ago was largely triggered by a Redburn note questioning how unique its tech was, arguing the online supermarket had a lack of its own tech patents and that its operations was based on pretty much off the shelf third-party systems.
Publicly Ocado said little at the time, but privately it indicated there were many more patents in the pipeline that Redburn suggested and that the tech behind its grocery business – where it believes its competitive advantage primarily lies - was not supplied by third parties.
There remains a wide spread of views on Ocado – broker price targets currently range from 260p to 680p – and that does not look like shifting to a consensus any time soon.
While upping its price target on Ocado to 350p today, Jefferies predicted "another roller-coaster ride in 2015".
Seatbelts on for another bumpy ride in 2015 then, but supporters of the company have solid reasons to feel optimistic.