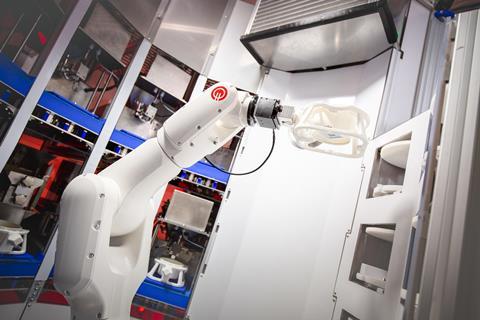 Ocado-backed startup Karakuri has launched a pre-production version of its automated canteen robot.
The DK-One robotic server was due to be tested this autumn at Ocado's Hatfield headquarters, preparing free breakfast bowls for staff, but the trial has been delayed to next year due to coronavirus.
The robot can prepare freshly-made, customisable, ready-to-eat meals from 18 hot and cold ingredients with precise portion accuracy. Customers receive a precise read-out of the amounts of each ingredient in their meal, including nutrients and calories.
Users will be able to create and place their order from their phone or an in-store tablet. Meals can be prepared concurrently, at a rate of one every 10 seconds.
"This is one of the most highly-anticipated stages of our business and a really important step," said Karakuri CEO and co-founder Barney Wragg. "Now up and running, this will be the first time we can use a pre-production machine to demonstrate the DK-One's commercial and nutritional benefits in the real world and thus demonstrate our vision for the future of food."
Much of the development work has taken place in the back end of the machine, so it is able to accurately dispense wet, dry, soft, and hard ingredients. The company has been building what Wragg calls a "taxonomy of how robots manage food".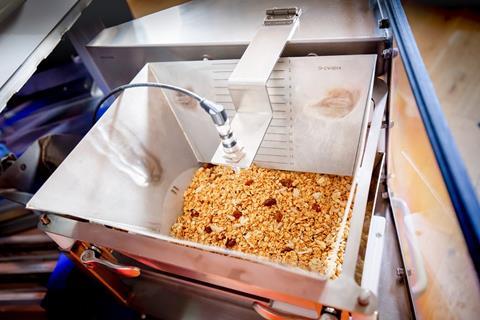 "The difficult bit is how do you manage this three-dimensional, non-linear, always-changing piece of material that we call food," Wragg told The Grocer. "If you can do that accurately then you can build a business that goes into all areas of cooking and meal preparation."
The company last month secured an additional £6.3m investment led by Firstminute Capital, which includes funding from Hoxton Ventures, Taylor Brothers, Ocado Group and the UK government's Future Fund.
Ocado acquired a minority stake in the business in 2019. At the time the online grocer said it would "give Ocado the opportunity to expand its value proposition in grocery". Karakuri is chaired by Lastminute.com co-founder and CEO Brent Hoberman. In October last year, Heston Blumenthal joined the startup's advisory board.
The company has doubled its headcount in the past year, now numbering 40 staff. Huge growth is predicted.
"Covid has really made people stand up and pay attention – we need to be thinking about automation, in terms of efficiency in our business, and the social distancing of our kitchens," Wragg said. "We've spent time talking to our customers and industry specialists, and seen huge enthusiasm for DK-One's potential."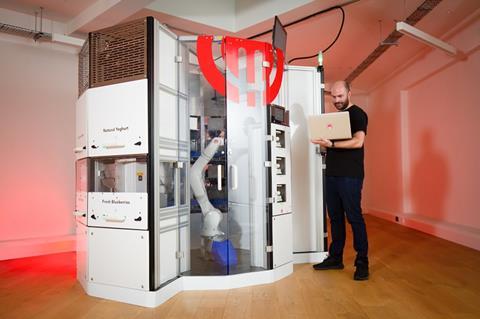 It is expected the robot will first be deployed in quick service restaurant settings, supporting workers at the busiest times.
"Even before the pandemic, it was clear there were many opportunities to increase sustainability, resilience and productivity in the catering industry, and to better address changing consumer tastes and lifestyles while reducing the huge amount of wastage," said Professor David Lane, director of the Edinburgh Centre for Robotics and co-chair of the UK government Robotics Growth Partnership.
"The pandemic has thrown up further challenges of distancing and remote working that can now readily be addressed through robotic innovation."