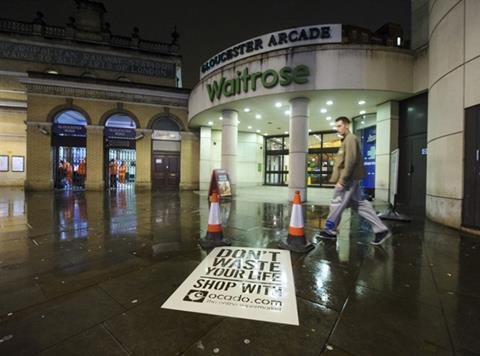 Ocado has hit the streets of London to stencil ads outside Tesco, Sainsbury's and Waitrose stores.
Applied overnight using a high-power water jet, the Ocado adverts try to convince shoppers to switch away from bricks and mortar rivals with messages such as "Don't waste your life, shop online at Ocado.com."
Ocado co-founder Jason Gissing said the aim of the ad campaign was to remind shoppers it was less stressful to shop online during the busy build-up to Christmas.
"We've literally taken to the streets to remind people how chaotic and stressful shopping at a normal supermarket can be during the festive period," said Gissing.
"From pester power and long queues to busy car parks and aggressive shoppers, the experience can be horrific. With the Ocado Christmas Shop, your entire shop can be done in a few clicks without leaving the sofa."
The ads were printed on the doorstep of shops in West London – mainly in Fulham and Chelsea.
Ocado ran a similar campaign in October when it stencilled job adverts on the doorsteps of big banks and tech companies, including UBS, Skype and Amazon.