Amazon has made free, fast grocery delivery a standard perk of Prime membership in the UK. How big is the threat to UK grocery retailers?
Everything needed for a weekly shop picked, packed and delivered to your door – for free. That was the undeniably attractive proposition Amazon is now offering, with free, fast grocery delivery an added perk of its Prime membership as of last week.
It will become, Amazon Fresh UK country manager Russell Jones predicts, "one of the most-loved Prime benefits in the UK".
So, with every other supermarket charging some additional fee for deliveries – with the exception of Waitrose – how much of a threat is this to the major grocery retailers?
It should be noted that the Prime benefit applies to scheduled deliveries within a two-hour slot, including the same day. A one-hour scheduled slot, as offered by most supermarkets, costs £3.99.
But it's nonetheless an offer rivals could struggle to compete with. Already there are strong signals the huge ramp-up in online sales has been dilutive of profits for the majors.
"Online grocery delivery is expensive, and whether they will be able to match the free delivery proposition is yet to be seen," says Publicis Sapient's senior director of retail Andy Halliwell. "Results from grocers recently have shown that despite the sales growth over the first half of this year, profits remained flat because of the need to invest in systems, tooling and technology [partly] to scale their online sales.
"There is no doubt this will put profits across all the main grocers under further pressure. The question is whether shareholders have the appetite to reduce their overall profitability to maintain market share."
Read more:
Bain & Company analysis found the margins enjoyed by supermarkets on purchases made by a customer in a store turn negative – the loss as much as 15% – when the same items are delivered by the retailer to their home. That's a problem as the online grocery channel continues to grow: it now accounts for 13% of all grocery sales, according to Nielsen.
Tesco has been the first to make tweaks to its delivery fee system. Last month it said it was moving to a "simpler" and "fairer" pricing structure that reflected the cost of its picking, packing and delivery options.
The move sees delivery slots carry a £4.50 charge, or £5.50 for orders delivered from one of Tesco's customer fulfilment centres rather than a store, replacing its peak and off-peak charges. Similar moves have not happened at other supermarkets yet. It's not without risk.
"Those that raise fees could face a backlash if the public misconstrues their actions as profiteering," says Bain's report.
Amazon will be losing money fulfilling grocery delivery for free, but that's nothing new for the e-commerce giant.
"Many of Amazon's 'non-core' businesses are in fact loss-leaders," says Miya Knights, author of Amazon: How the World's Most Relentless Retailer will Continue to Revolutionise Commerce. "Prime subscription fees may now be a healthy top-line contributor, but most analysts agree Amazon is likely still losing money in a bid to encourage more frequent shopping."
Amazon's free Prime perk move in the UK follows a similar move in the US last October. Main competitor Walmart was caught flat-footed by the move, as it didn't then have a similar membership offer.
Asda's parent has only just recently launched its own programme, Walmart+, which costs $98 per year and includes same-day delivery of groceries, fuel discounts and other perks.
"Walmart knows they can't lose the grocery war to Amazon so Walmart+ is a defensive move to protect their grocery share," says former Amazon grocery strategist Brittain Ladd.
The situation in the UK is slightly different. Supermarkets already have well-used 'delivery passes'. Subscribers get deliveries at no extra charge along with a range of other perks. The supermarkets also have mature loyalty schemes to leverage.
Iceland and Waitrose have no such annual passes but both offer free delivery anyway, with the respective minimum basket values of £35 and £60.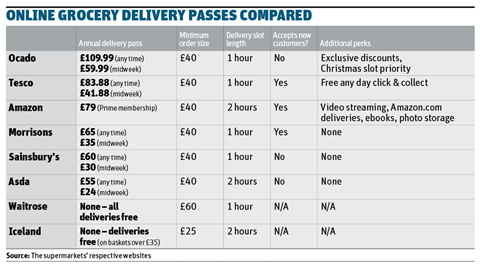 Straightforward
"This is a straightforward tactic to gain market share that will probably have limited impact," says Julian Skelly, managing partner, retail at consultancy Publicis Sapient.
"Ultimately, people shop based on price and assortment. And if they are already locked into a delivery subscription, the delivery costs don't really factor into their decision making."
However, with Mintel putting the number of Prime members in the UK at 15 million, there are a lot of people for whom making the switch to a new grocery supplier will be completely frictionless. With no delivery fee to pay, another potential barrier has been removed.
But there are also reasons not to fear Amazon's market grab. Despite the significant attention the announcement received in the media, Amazon will need to do more than simply free delivery to sway potential customers, argues HSBC Global Research.
"Of course, Amazon is Amazon, but Amazon also has only a circa 5% share in online grocery – and so well below a 0.5% overall grocery share – and has struggled to gain traction with customers. The problem with Amazon's offering is not delivery charges but the quality of the service it operates – Amazon Fresh simply isn't very good, in our view," a note to clients reads.
If the changes on delivery fees "are not backed up by improvements in the underlying service, it is likely that any boost will yet again prove temporary" it continues.
Of bigger concern to grocers and retailers more broadly, the bank's research arm states, is the continued "wrapping of more and more services into Prime", which enables Amazon "to seek to destroy the profitability of incumbents and increase its overall market influence to an extent that creates material risks of abuse".
"It does raise the issue again of Amazon's potential use of predatory pricing in offering services in adjacent markets to build its influence," it adds.
Amazon in the US is absorbing more and more share of the grocery market, both online and off. It is nipping at the heels of Walmart's dominance, but it has a long way to go, and it took buying a supermarket chain – Whole Foods Market, for $13.4bn – to get there.
Becoming a serious player in UK grocery will take much more than free delivery and a few Amazon Go stores, but for Amazon this is just the start. It has much more cash it is happy to burn to take share.
As Ladd puts it: "Is Jeff Bezos afraid? Not a chance."