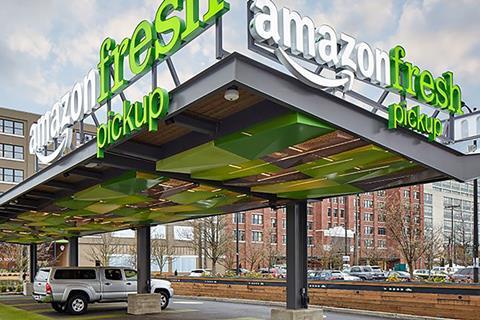 The project could involve making Amazon Fresh a free benefit of Prime in the UK

It is thought to involve retrofitting nine existing depots so they can handle fresh produce
Amazon is preparing to launch an 'Ultra Fast Fresh' service in the UK, a merging of Amazon Fresh and Prime Now, according to suppliers briefed by the e-commerce giant.

Analysts understand the project could involve making Amazon Fresh a free benefit of Prime in the UK - it currently requires a monthly add-on fee or per-order charge - which promises to massively increase the company's penetration into the grocery market and its potential to best Ocado.

Amazon representatives had been briefing suppliers earlier this year on what it called 'hybrid grocery', before the coronavirus crisis reached the UK. According to those in meetings with Amazon, the project involves retrofitting nine existing depots so they can handle fresh produce and fulfil grocery orders within hours. The first depot to be refitted is in London, and the next in Leeds.

The stated aim of Ultra Fast Fresh, sources said, was to bring rapid grocery delivery to almost 40% of UK households by the end of the year. According to suppliers briefed on Ultra Fast Fresh, their products will be picked and packed at the refitted Amazon depots.

"A move like this makes sense," said Miya Knights, co-author of Amazon: How the World's Most Relentless Retailer will Continue to Revolutionise Commerce. "It tracks in line with changes it made in the US last October, absorbing extra delivery fees for Fresh into Prime; it gives it a strategic way to expand into grocery in the UK; and, it expands its reach with independent food suppliers and merchants."

"A move like this by Amazon would put pressure on the likes of Tesco and Asda to up their game when it comes to speed," she added.

The project is being led by UK country manager, Amazon Fresh and Prime Now, Russell Jones.

Amazon invited several suppliers to "our first Amazon UK Ultra Fast Fresh vendor day" which was due to take place on April 1 but was cancelled due to coronavirus.

Amazon did not respond to multiple requests for comment.

"It would certainly be a big deal, in that there hasn't been a major new entrant with sufficient geographical coverage since Ocado to challenge the Big Four in this space," said Knights.

"Although Amazon has limited penetration of the UK grocery market, it does have its Prime membership bundling and trusted next-day delivery to tempt customers away from their other regular online grocers.".

Prime Now - which offers grocery delivery within hours at an additional cost - is currently available to more than 30% of the UK population in selected postcodes. To use it, you must be one of the 15 million (according to Mintel) Prime members in the UK.

Items are picked and packed at nearest Morrisons stores and depots and delivered to homes by Amazon. Fresh produce lines from Whole Foods Market and Booths, and a limited number of smaller suppliers are also available on Prime Now.

Amazon Pantry, which stocks ambient foods, beer and wine, household goods and beauty products, is also available to Prime members, but orders come with a flat fee of £3.99 for next day delivery.

Prime members pay extra for Amazon Fresh - either a £3.99 monthly add on or £2.99 per delivery, 'on-demand' option. Same day deliveries require a minimum basket size of £40.

Late last year in the US, Amazon made Fresh deliveries a free benefit of Prime membership, ditching the $14.99 per month access fee.

"Grocery delivery is one of the fastest growing businesses at Amazon, and we think this will be one of the most-loved Prime benefits," said Amazon VP of grocery delivery Stephenie Landry at the time.

A similar move in the UK would "boost interest in Prime membership and interest in online grocery shopping among existing members. Either group may try online grocery shopping for the first time or switch from their regular provider," Knights said.

The Ultra-Fast Fresh vendor event has been rescheduled for July, The Grocer understands.