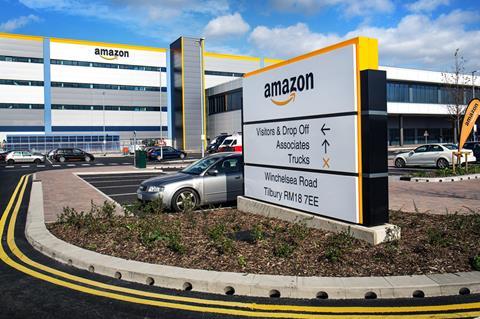 Amazon is pushing ahead with the rollout of a rapid grocery service dubbed 'Ultra Fast Fresh' in the UK, suppliers briefed by the e-commerce giant have told The Grocer.
Earlier this year Amazon representatives had been quietly preparing suppliers for the launch of a new offering it called 'hybrid grocery'. Then coronavirus struck and a planned vendor day scheduled in April was cancelled as a result.
But Amazon is continuing with the project, multiple sources reveal, and currently overhauling several depots so it can fulfil more fresh produce orders.
Amazon told the suppliers that it "plans on building a more robust customer facing platform for grocery" which customers will use to purchase weekly baskets "with a one to two-hour delivery across nine cities in the UK".
Currently Amazon Fresh, which offers same-day delivery, is only available in select postcodes in London and the Home Counties. And produce bought from Amazon Fresh is delivered from a single distribution centre. Amazon also sells fresh produce through Amazon Prime Now which delivers to postcodes in 24 cities. Meanwhile produce is delivered from 13 Amazon distribution sites and picked from Morrisons stores. Last month Morrisons announced it had more than doubled to 40 the number of stores serving Amazon Prime Now customers
It is understood the new offering will, for now, come under the Amazon Prime Now and Amazon Fresh banners – serving as a "less than perfect, not properly branded precursor", as one supplier described it – before it is branded as a separate service. The new service will be known as either Ultra Fast Fresh or Ultra Fast Grocery.
Expansion of grocery order fulfilment is imminent at three Amazon depots in Wembley, Surrey and Hatfield, it is understood. Work at depots in Leeds, Birmingham, Sheffield, Portsmouth, Glasgow, Newcastle, Liverpool and Manchester will follow.
Several suppliers have received dummy orders for the overhauled depots in recent weeks.
Amazon is opening a new "mid-level refrigerated distribution centre" in Greater London to serve as a hub for fresh produce which will deliver to facilities that already exist. An Amazon spokeswoman would not confirm Amazon's broader Ultra Fast Fresh plans.
Since the beginning of the pandemic, Amazon has created 15,000 new full and part-time warehouse and delivery driver positions in the UK as Amazon's overall fulfilment capacity has come under strain due to social distancing demands in its warehouses.
Last month, CEO Jeff Bezos said the company would plough all its Q2 operating profit into its pandemic response.
"These aren't normal circumstances. We expect to spend the entirety of that $4bn, and perhaps a bit more, on Covid-related expenses getting products to customers and keeping employees safe," Bezos added.