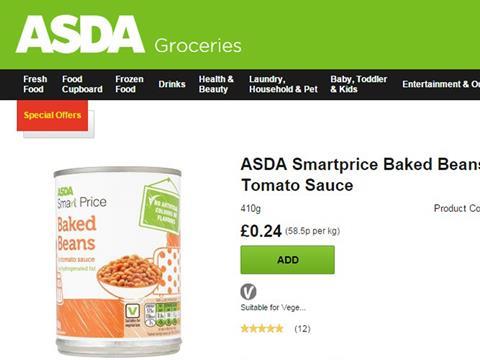 Asda is set to roll out a new search engine on its website after admitting results could sometimes be inaccurate.

The retailer said its current engine restricted the number of products displayed, and admitted: "Our search results aren't always as accurate as they could be".

Among issues that have come to light is difficulty finding some products from Asda's budget own-label Smartprice range online. Searching for the word 'crisps' on the retailer's site does not show shoppers its Smartprice crisps, which are 66p for a 12-bag multipack (or 5.5p per 18g bag) - although they can be found by searching specifically for 'Smartprice' or by expanding the description to 'ready salted crisps', for example. Similar issues with Smartprice lines emerged when searching under terms including 'orange juice' and 'baked beans'.

Retail price and promo analysts Brand View also flagged up an issue with the Asda site earlier this year - since corrected - in which a search for 'pet food' returned a seemingly random array of products including freezer bags.

Asda this week admitted that a "small number of Smartprice lines have to be searched for specifically", adding that it sold a significant number of Smartprice lines through its site.

The new search engine would be released in the near future, said the retailer. "This would mean with 'baked beans', for example, that customers will see all the baked beans and not also the tinned spaghetti and ravioli that currently get returned as well," added a spokesman.

Economist Stuart Parkinson, who flagged up the difficulty in searching for Smartprice crisps in his blog The Top Note, suggested Asda might deliberately make cheaper items harder to find. "Asda wouldn't necessarily want us buying its cheapest products online," he said.