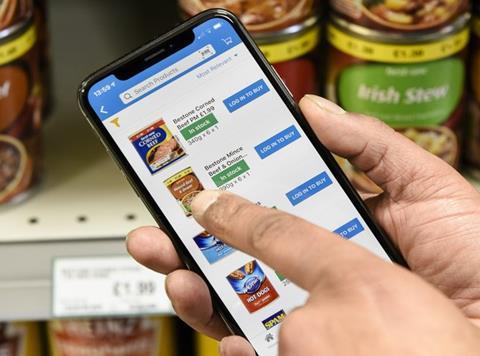 Bestway Wholesale has scrapped its old transactional app and website and replaced them with improved versions that it says rival market leaders such as Amazon and Ocado.

New features incorporated into the RNF-built app include the ability for retailers ordering stock to switch between app and website seamlessly without having to restart their order.

Retailers can also save favourite products to personalised lists for quicker reordering.

The incorporated barcode scanner enables retailers to scan a product's barcode and add it to their shopping basket - and now also their personalised list - and has been engineered to work faster, according to Bestway.

It says the "latest" barcode-scanning technology provides ease of search and the ability for customers to manage payments and calculate margins with a POR calculator all in one place.
The app enables Bestway to communicate with users via push "rich" notifications that include images and videos and place relevant supplier messages within the app to alert customers to special deals and new products.

Retailers can track orders via the website and if a product goes out of stock after placing an order, it will tell them what substitutions are available.

The company focused on making the website similar to consumer websites because "a lot of B2B websites are not very usable", a spokeswoman said.

The site refresh is seen as a first step "on a journey focused on raising the quality of digital channels across the wholesale sector, with Bestway Wholesale driving improvements as the industry leader", it claimed.

"We wanted to offer an online experience that wasn't just in line with wholesale, but that rivalled market-leading apps such as Amazon and Ocado - it's a part of our strategy to utilise digital to improve the shopping experience and service to customers," said Bestway Wholesale head of marketing Salih Sheikh.

He said the wholesaler spent a year researching and developing the new app and website. All the customer feedback received throughout the development and the soft-launch had been used to shape the app to meet customer needs.

"All a customer has to do now is download the app and sign up online with their existing customer number and they will be ready to order - it's ready to use now," Sheikh added.

The app is available for both Apple and Android devices.