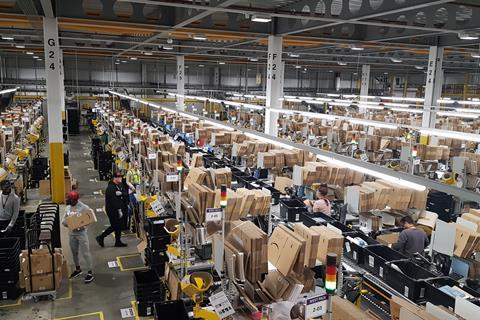 Amazon has posted record profits for the first quarter of 2019, fuelled by growth in cloud computing and advertising, while announcing plans to spend $800m cutting delivery times for Prime members.

Profits hit $3.6bn, making it Amazon's fourth record quarter in a row, up from £3bn in quarter four of 2018. Sales rose 17% to $59.7bn, the slowest rate since 2015 but near the top of the company's guidance range of $56bn to $60bn.

Shares rose 1.2% to $1,924 in after-hours trading following the announcement.

The company also announced that the standard delivery time for Prime members would be cut from two days to one day in a global move that would begin in the US. Prime delivery, which is free with a subscription, is already a one-day service in some countries, including the UK.

"Our goal is to evolve the two-day free shipping programme into a one-day free shipping programme," Amazon chief financial officer Brian Olsavsky said in a conference call with analysts.

The move is seen as a bid to stay ahead of rivals in the US including Walmart, which has also been cutting delivery times. Olsavsky did not set out a timeframe, though the rollout of one-day Prime delivery in the US has already begun. Amazon's profit guidance for the second quarter was $2.6bn-$3.6bn, lower than analysts' forecast of $4.2bn.
Sales from subscriptions to the Amazon Web Services cloud platform rose 40% year on year to $7.7bn in the three months ended 31 March. Revenue in the company's 'other' segment, including advertising, rose 34% to $2.72bn. Meanwhile, online sales revenue was up 10% to $29.5bn.

"Amazon just turned in another powerhouse quarter fuelled by its strength in the cloud and advertising businesses, which continues to inflate the company's operating margins," said eMarketer principal analyst Andrew Lipsman.

"While Amazon Web Services' momentum continues unabated and is clearly the bigger driver of this profit story at the moment, the advertising flywheel now appears to be in full effect for Amazon and will only be a bigger part of the growth story over the near term."

In the UK during the quarter, Amazon announced 1,000 new full-time apprenticeship roles to start in the next two years, and a new fulfilment centre in Chesterfield, Derbyshire, that will create 200 jobs.