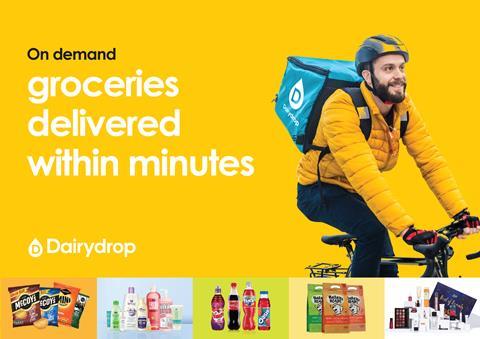 Doorstep milk delivery platform DairyDrop is launching an on-demand grocery service in response to "hundreds and hundreds" of emails from its customers.
The company is to expand its offering by establishing dark stores in Manchester and London, and has recruited 50 couriers to make deliveries "within minutes" to areas surrounding the units.
DairyDrop works with several UK dairy suppliers to connect them with consumers seeking regular milk rounds. However, for its on-demand venture, the company will be sourcing and selling a broader range of convenience products directly to the consumer.
"Since lockdown we're growing exponentially, but the service is aimed more at rural customers," DairyDrop CEO Jason Clare told The Grocer. "We're getting loads of people from the city come on to our portal and ask for one-off orders.
"I've got a warehouse that is five minutes from Manchester, we've got budget for drivers and electric bikes and demand is so high – why wouldn't we do it?" he added.
To use the service, customers will log on to the DairyDrop app and enter their postcode. If on-demand is available in their area they will be able to shop a range of products including petfood and pharmacy goods.
Manchester will be the first area to launch at the end of this month. Orders will be fulfilled from a dark store situated within a warehouse operated by another of Clare's businesses, office fruit basket supplier Fruidel.
"The pandemic decapitated the [Fruidel] business with no one working in offices," Clare said. "It really hit us. As one went right to the bottom DairyDrop's gone exponential."
An alternative model, in which DairyDrop couriers pick items from supermarkets and deliver them to customers – such as with Buymie – was considered.
"There's no point when I can get those products at cost price myself and make more money when I've delivered it," Clare said, though the company has "not fully ruled out" the approach.
The new service comes as a slew of on-demand rapid convenience services promising delivery within 15 minutes or less expand beyond London. Weezy, Getir and Gorillas have all established dark stores in Manchester this year.
Meanwhile, doorstep milk delivery has also seen a resurgence, with Müller's Milk & More service signing up more online customers in the first eight months of 2020 than it did during the whole of 2019.
"Getir – they're actually moving three doors up from my warehouse," Clare said. "And you've got other ones coming to Manchester soon so we don't want to be the last ones doing it, we want to be one of the first."
A major marketing drive, targeting student accommodation and apartments in Manchester city centre, is planned. Expansion of the service into London will happen within weeks on the Manchester launch, Clare said.
"If you can get Manchester right you can definitely get London right," he said.