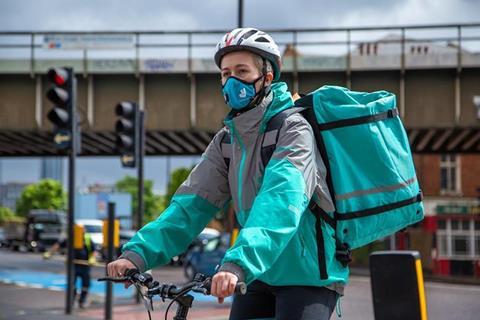 M&S has terminated its short-lived partnership with Deliveroo to focus on its joint venture with Ocado.
The retailer said the tie-up was a temporary one, designed to get groceries to customers during the peak of the lockdown period.
M&S began working with Deliveroo in April, with 120 M&S franchise stores at BP petrol stations offering home deliveries. Orders could be made up of a selection of 60 products and delivered to local customers via Deliveroo.
This was to "help make sure isolated people at home have access to household essentials", Deliveroo said at the time.
It then expanded in May, adding 20 further stores and a total of over 130 products available for shoppers to order and have delivered in as little as 30 minutes. Items included fresh fruit & vegetables, pasta, meat, prepared meals, sweets, biscuits, soft drinks, wine and toilet roll.
There was a £4.99 delivery fee for these orders.
"We had a temporary partnership with Deliveroo during the peak of the coronavirus lockdown, which helped customers to access M&S products without leaving their homes," an M&S spokesman told the Grocer. "Our focus is now on our partnership with Ocado."
M&S's joint venture with Ocado, which sees it offer online grocery deliveries for the first time, began on 1 September.
Deliveroo has forged several link-ups with supermarkets and convenience stores in recent months. Morrisons signed up to have deliveries by bicycle and motorbike from more than 130 stores, Co-op has Deliveroo's services offered from over 700 branches and McColl's began home deliveries for the first time through Deliveroo last year.
Waitrose was the latest supermarket to launch a tie-up with the courier company. Its 12-week trial began two weeks ago, through which it delivers more than 500 own-label and branded groceries.