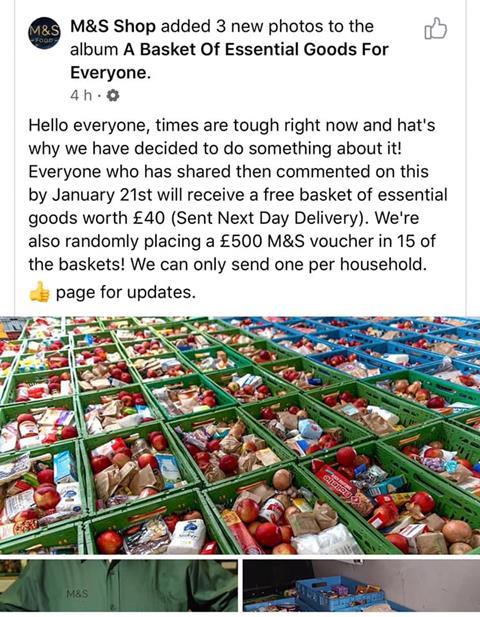 M&S customers are being targeted by Facebook scammers offering "a free bag of groceries" said to be worth £40.
The scam has been published by a fake Facebook page called 'M&S shop', which said it is giving anyone who likes and shares the post, and signs up by sharing their personal details, the complimentary food and drink items.
The accompanying text on one of the page's posts reads: "Hello everyone! Times are tough right now and [that's] why we have decided to do something about it! Everyone who has shared or commented on this by January 21 will receive a free basket of essential goods worth £40 (sent next day delivery)."
It also claimed to be placing a £500 M&S voucher in 15 of the baskets being distributed.
Another of its scams said: "Great news everyone, we have a free bag of groceries filled with essential goods worth £50 for everyone. Share by 11pm to get one."
Several Facebook users have already fallen victim to the activity, with some thanking M&S for its kindness.
The fraudulent 'M&S Shop' page already has over 30,000 followers.
M&S has responded to customers who have flagged the page, confirming it is aware of the issue and has reported it with its cyber security team with a view to get the page taken down as soon as possible. It also invited shoppers to flag it with Action Fraud via its website.