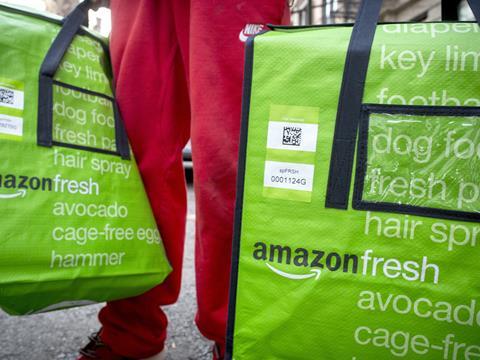 Morrisons is to supply Amazon with fresh, frozen and ambient groceries in a landmark deal that is set to accelerate the online retail giant's push into UK grocery.
Under the wholesale supply agreement, which is set to kick off "in the coming months", hundreds of Morrisons grocery lines will become available to Amazon Prime and Pantry customers in the UK.
Morrisons CEO David Potts said the combination of Amazon's online and logistics capabilities and Morrisons' fresh foods expertise was "compelling".
The deal would build on Morrisons "unique strengths as a food maker" and allowed it to create a broader business that would complement its supermarkets. "This is a low risk and capital light wholesale supply arrangement that demonstrates the opportunity we have to become a broader business. We look forward to working with Amazon to develop and grow this partnership over the coming months."
Amended Ocado deal
Morrisons has also agreed a new deal with Ocado "in principle". This would see Morrisons take space in Ocado's CFC in Erith and Ocado moving to store picking for Morrisons. It would also ensure Morrisons.com would be able to offer a nationwide service.
Detailed terms still needed to be agreed, Morrisons said, and the deal would only go ahead "if it enables Morrisons to achieve profitable growth online".