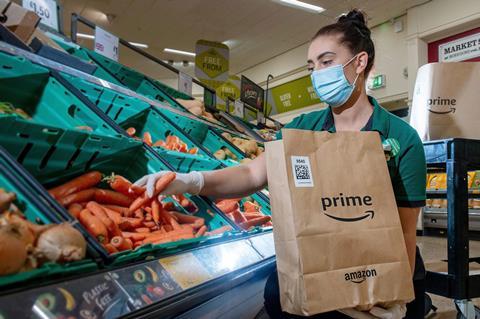 Morrisons products are being listed on the main Amazon.co.uk website from today for customers in Leeds.
The dedicated online store front – accessible from the main website's search-bar drop-down menu between luggage and musical instruments – will appear for "millions" of Prime members across the UK before the end of this year, Amazon said. The store will also be viewable on the main Amazon app.
Morrisons goods have been available through Amazon for some time. A limited range was offered through Amazon Fresh, with a wider selection listed on primenow.amazon.co.uk and the dedicated Prime Now app. The Prime Now same-day delivery offering has been significantly expanded during the pandemic, more than doubling in reach to more than 40 stores, covering the largest cities.
These channels were being maintained for the foreseeable future, a spokesman said, adding that the move to add a store front on Amazon.co.uk meant Prime members who didn't use the app or dedicated site could do grocery shopping more easily.
"The launch of Morrisons on Amazon means increased visibility for Morrisons' incredible service and selection, as well as an even greater choice for our customers," said Doug Gurr, Amazon UK country manager.
"We're always looking at ways to make Prime even better and this expansion of our relationship with Morrisons means that millions of Prime members can soon order their weekly groceries from their local Morrisons shop, with same-day delivery, at no extra cost," he added.
Read more:
Thousands of products including meat, seafood, dairy and baked goods, and fruit & vegetables, as well as Morrisons locally sourced Market Street products and The Best own-label ranges, will be listed, picked from local stores.
"There will be thousands of items at the same price as Morrisons stores and a range of multibuy promotions delivering great value for money," Amazon added.
Orders are picked from local stores by dedicated Morrisons staff and delivered to customers by Amazon Flex Delivery Partners. Same-day delivery is free on orders over £40 for Prime members. On orders under £40 there is a £3.99 fee.
"Morrisons on Amazon will build on our partnership with Amazon, making our good-quality, great-value food even more accessible through Amazon.co.uk and the Amazon app," said Morrisons CEO David Potts.
"It will give more and more customers the option of receiving Morrisons groceries straight to their doorstep, including freshly prepared products from our brilliant Market Street colleagues," Potts added.
The move comes weeks after Amazon made Amazon Fresh grocery delivery free to Prime members, with order fulfilment available within the hour in select areas.
The free delivery perk – for orders over £40 – is being rolled out to Prime members in London and the home counties, and "millions of members across the UK" before the end of the year.
Tesco this week confirmed it was looking to match the Prime membership benefit, and introduce free deliveries for its Clubcard Plus members.