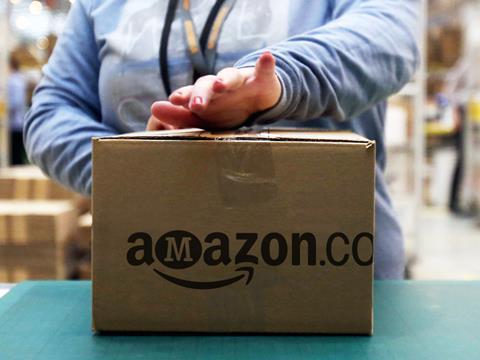 Morrisons has launched a store pick service with Amazon to beef up its online capabilities. From today, Amazon Prime customers in selected areas can order a full Morrisons shop online via the Prime Now app.
Orders will be picked at a local Morrisons store and delivered same day by Amazon either within one hour for £6.99 or in a two-hour slot for free. The service will launch in selected postcodes in London and Hertfordshire.
This new 'Morrisons at Amazon' initiative broadens the Morrisons wholesale supply services available to Amazon customers. Morrisons wholesale supply to Amazon launched in June and had started well, the supermarket said in a short statement.
"As food maker and shopkeeper, we have unique skills to help build a broader new Morrisons through capital-light growth. 'Morrisons at Amazon' is another exciting joint opportunity and makes Morrisons' good quality, great value-for-money products available to even more customers," said CEO David Potts.
He stressed these initiatives were "capital light" for Morrisons and, although still in their early stages, would contribute to a £50m-£100m incremental profit opportunity.
This latest move is an expansion of the deal Morrisons signed in February to supply the online giant with groceries. Amazon said it provided another way for customers to access Morrisons' product selection, in addition to a range of items available already on Prime Now, Amazon Pantry and AmazonFresh.
"We are delighted to welcome Morrisons' increased selection to the Prime Now app, enabling us to grow the selection of items available to our Prime customers for one-hour delivery," said Mariangela Marseglia, director for Prime Now EU. "Morrisons store selection is in addition to existing local stores available on Prime Now – John Bell & Croyden and Spirited Wines – helping us to provide more than 10,000 additional items to customers for ultra-fast delivery, and we look forward to adding more stores and reaching more customers in the future."
At the same time as announcing the Amazon deal in February, Morrisons revealed it was asking Ocado to develop a nationwide store-pick model in order for it significantly increase the access for customers to its Morrisons.com online grocery service. The Grocer undestands this piece of work remains unaffected by today's announcenent and the first sites operating with an Ocado-developed store-pick model will come on board next year.
That hasn't stopped the news from hitting Ocado's share price, however. The online retailer's shares fell 5.6% during this morning's trading to 266.40p.