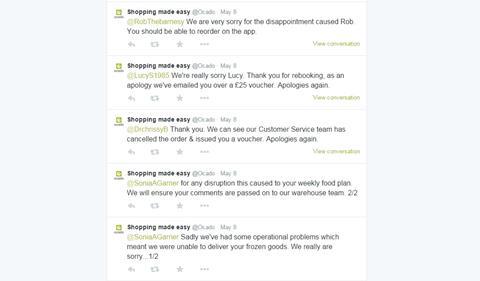 Online grocery retailer Ocado's deliveries were delayed up to five hours on Friday (May 8) after a fire broke out at its main warehouse that day.
The fire, which The Grocer understands was not a major incident, started on Friday morning at the warehouse in Hatfield Business Park, Herts.
Deliveries were delayed for hours as lorries waited outside the building to load orders up to take to local distribution depots, where delivery drivers were also standing by.
Ocado said in a statement: "An incident at our Hatfield Customer Fulfilment Centre on Friday caused us to cancel a number of orders. The issue was resolved on Friday and deliveries have now returned to normal." No-one was hurt in the incident, it confirmed.
Customers who complained about the delay or cancelled their deliveries were offered £25 Ocado vouchers.
Ocado, which has its head office in another part of Hatfield Business Park, said: "We apologise for the inconvenience this has caused for some of our customers and we have sent those impacted a compensatory voucher."
All customers whose deliveries were cancelled were notified immediately, and were able to re-schedule their order using the 're-book' button, it said.
Ocado's Twitter feed blamed "operational issues" at the main depot affecting picking and packing, as its customers tweeted to complain, explaining that a large number of orders were affected.
It also said via Twitter that it was unable to deliver frozen goods included in the delayed orders.
Ocado operates warehouse "hubs" at Hatfield and in Dordon, Warwickshire, with goods delivered via 14 satellite regional "spokes" around the country in locations including Weybridge, Surrey, Ruislip, Middlesex and Enfield in North London.
The retailer will be holding its Annual General Meeting on Friday May 15 and will be revealing its half year results on June 30.