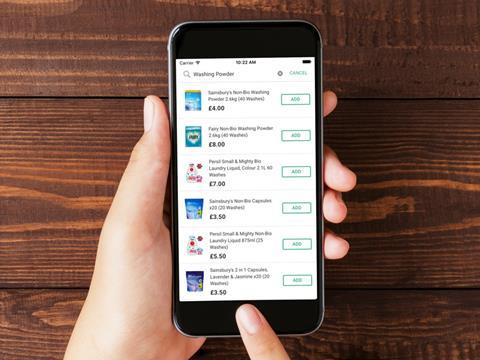 Sainsbury's is trialling a one-hour grocery delivery service app in South West London.

The supermarket will pick up and deliver food by bicycle to customers' doors in Wandsworth within the space of an hour or "at a time to suit you" for a fixed price of £4.99 per delivery.

The Chop Chop app is free to download on the Apple App Store and will be available to customers within a three-kilometre radius of Sainsbury's Garrett Lane store.

There will be no minimum spend but - given deliveries are by bike - orders are limited to a maximum of 20 items, and if they are particularly large or heavy, a double charge will apply.

The app will not allow customers to make purchases that must be made at concessions, the kiosk, café or petrol station, as well as prescription medicines.

Chop Chop will notify customers if any items are unavailable and suggest substitutions by i-message. The service will not offer Nectar points or accept Sainsbury's vouchers.

Sainsbury's would not comment on how long the trial would last or when it could roll out nationwide, but said it was part of its strategy to enable customers "to shop with us whenever and wherever they want".

The launch comes as Sainsbury's announced a 0.8% fall in like-for-like sales in the first quarter this week. Chief executive Mike Coupe revealed online had performed particularly well over this period, with sales growth of 8%, and stressed he was unfazed by competition from the likes of Amazon.

"Taking on the most competitive and developed online grocery market is not a challenge for the faint-hearted," he said. "I suspect Amazon have their work cut out."

Amazon this week stepped up its push into online grocery in the UK with the launch of Amazon Fresh across Central and East London.