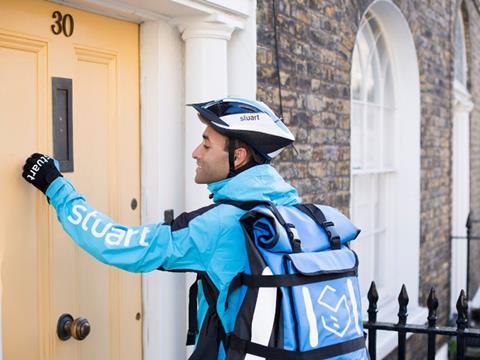 On-demand last-mile delivery company Stuart is on a rapid expansion push that is due to see it operating in 29 UK towns and cities by December.

It's an acceleration of growth for the company, which by May this year was in seven UK cities.

The business, which provides Sainsbury's one-hour Chop Chop delivery service in London, is expanding in partnership with an unnamed FTSE 100 company.

Stuart has also partnered with Home Run and a "number of" other grocery businesses, it said. Home Run offers Instacart-style online grocery shopping and delivery in the UK. In the partnership, Home Run takes the orders on its app or website and Stuart provides delivery.

Home Run delivers from Tesco, M&S, Waitrose and Whole Foods stores in London, and has ambitions to soon expand nationwide.
Stuart launched in 2015, mainly delivering meals for restaurants, but has expanded into other e-commerce sectors, with clients including Zalando, Decathlon, Carrefour and KFC.

The list of Stuart's new ­territories includes Birmingham, Cardiff and Oxford.

The firm also operates in France and Spain.

"We've been launching a few cities over the last months and by the end of November we'll be live in the following 29 cities in the UK," Stuart's spokeswoman said.

"The expansion was prompted by a new partnership with a UK FTSE 100 company, which is not a grocery chain.

"We have a number of smaller grocery partners including Home Run."