The nation's supermarket staff and delivery drivers are vital to the functioning of the UK during this pandemic. So what are supermarkets doing to meet soaring demand – and keep people safe?
She is 72, lives alone, recovering from breast cancer and has arthritis so can hardly walk," sounds the plea put to Sainsbury's on social media.

"She is running out of food fast and there is no family close enough to help her. When she calls your helpline she is told to email instead, but then the emails are never answered. PLEASE help her."

Britain's most vulnerable people are getting desperate. Unable to get to a supermarket, and warned that doing so could pose a serious risk to their health, they are turning to online grocery delivery as a lifeline.

But when they do so, they are left to deal with websites that keep crashing under the weight of demand or hours waiting on helplines.

"I've tried to call 50 times this morning. I have a severely disabled daughter, a daughter with a serious lung condition and I have asthma. PLEASE CONTACT ME," writes another Sainsbury's customer on Twitter.'

Images of elderly people confronted with empty shelves have sparked the introduction of dedicated store hours. The equivalent plight of those most in need online goes unseen. The lucky ones still have to join online queues behind the flood of people swamping supermarket sites seeking to make orders, with earliest delivery slots in some cases weeks away.

There will be no respite any time soon. This week, as he addressed the country to warn people to stay indoors, prime minister Boris Johnson offered clear advice: "use food delivery services where you can".

So just how ready and able is online grocery to meet the challenge of coronavirus? Which supermarket is best set up to meet the demand? And is online grocery prepared to act as a fourth emergency service and help those most in need, or will it be a case of first come first served?
Access denied
Weeks before the lockdown had even been proposed last week, so many people were attempting to order food online, supermarket websites started failing.

"Demand was four times the demand of our highest-ever peak. Our systems thought they were suffering a denial of service attack," said Ocado Group CFO Duncan Tatton-Brown in a call with media last week. "We've had hours in the week where we had 100 times the normal level of transaction on the website."

Ocado was forced to make a call which would have been unfathomable just months before: it stopped onboarding new customers. It later took its app and website temporarily offline, and has since paused its Reserved service.

"It's simply because we had so much demand, adding new customers now when we can't satisfy existing customers doesn't seem the right thing to do. And we're certainly not satisfying all our existing customers," Tatton-Brown told The Grocer.

Waitrose's website couldn't stand up to the weight of visitors either and had to be taken offline temporarily. Since Johnson's lockdown announcement, others have fallen. Tesco, Sainsbury's, Morrisons and Asda have all been forced at different times to post "closed for essential maintenance" holding pages.

When sites have been able to face the flood, the waiting time for slots for deliveries have blown out to weeks. Sainsbury's, like Ocado, has also paused new customer registrations "due to the huge increase in online orders".

Demand is so high, Ocado's Tatton-Brown said if the company had 10 times the capacity "we'd still sell it".

And there's the rub. Online's share of total grocery sales had levelled out at around 7% for the past couple of years, according to Mintel. In 2019, fewer people reported using online grocery services than in 2018. Now, suddenly, a panic-driven spike.

"All e-commerce operations are overloaded already," says Bruno Monteyne, Bernstein senior analyst of European food retail.

"Supermarkets will have to find a way to prioritise the people who really need it," Monteyne, a former Tesco supply chain director, says.
Twin approach
In an effort to emerge as an emergency service in a time of national need, the supermarkets are working to beat the overload in two ways: increasing capacity and prioritising demand.

Some are better placed to increase capacity than others. While its share price has outperformed the traditional supermarkets, Ocado accounts for about 1.5% of the UK grocery market and it is limited by its distribution centre throughput, "not the number of drivers we have or the number of vans we have" Tatton-Brown explained. The devastating fire at Andover last year is acting as a further limitation.

Conversely, with far bigger distribution sites, and a network of stores to pick and deliver from, the mults are only bound by the number of people they can employ to select items from aisles or depots, and drive vans to customer doorsteps. A recruitment drive of epic proportions is underway.

Tesco is advertising for hundreds of driver roles. Job posts read: "Your community needs you. With the Covid-19 situation evolving every day, and unprecedented high demand, we urgently need to recruit extra temporary delivery drivers." Hundreds of online order pickers are also being sought. And Tesco announced this week that it was adding 8,000 delivery drivers, many of which will doubtless be deployed for online delivery.
"It's a delicate balancing act grocers have now between online orders and replenishing shelves"
"We are looking at every opportunity to increase the number of slots available," CEO Dave Lewis said in a message to customers this week.

That followed a message from Morrisons last week in which it promised it would be "notching up the gears" of its home delivery service; making more delivery slots available to customers on Morrisons.com and the Morrisons Store on Amazon Prime Now, while adding 100 stores from which shopping will be picked.

It is hiring about 2,500 pickers and drivers, plus 1,000 distribution centre workers to meet demand.

Sainsbury's is seeking drivers as well as online assistant roles to "work behind the scenes or pick the products on the shop floor".

Asda too is "pulling out all the stops" to fulfil online orders and seeking drivers nationwide. "You don't need previous experience, just your right to work documents and driving licence," job ads note.

"Ocado has a smaller network, fewer trucks, fewer people, fewer distribution centres; so they're much more susceptible to a very small change in demand - something the bigger players can absorb," explains Tom Enright, Gartner analyst for retail supply chain.

"But everyone has a capacity limit," he adds.
Taxi service
As well as a recruitment drive, efforts are ongoing to bring more stores online, with many retailers, restaurants and wholesalers forging partnerships with under-utilised delivery networks - including taxi drivers.

"We're working with our customers including the Co-op to meet surging demand and provide efficient delivery so fewer people come into stores," says Guy Bloch, chief executive of delivery logistics platform Bringg. (For its part, Co-op is fast-tracking the recruitment of 5,000 new store staff, in part to fulfil online orders, it says.)

"We're looking to incorporate taxi drivers who are suddenly without customers into our driver network. A fleet of 300 cars based in London contacted us saying they heard about our services and that they would like to be incorporated into our network to meet growing demand and deal with the loss of passengers. They'll be up and running soon," Bloch adds.

Rival platform Lineten is similarly poised to offer supermarkets access to 120,000 taxi drivers and couriers across the UK to get food to people's homes.

New and unexpected online grocery services have come online over the past fortnight. Leon - working with hospitality provider Absolute Taste - announced it is launching a home delivery e-commerce platform offering "restaurant-quality ready meals, sauces, meats and other foods that customers can then store and eat at home".

Deliveroo has partnered with M&S and BP to deliver a range of about 60 products from 120 forecourt franchise stores. It's also rolling out an 'Essentials' range of staples to "ensure people who are at home, especially the elderly and vulnerable, can receive the items they increasingly need".
"There shouldn't be a reason why the Tesco delivery van shouldn't also deliver Asda orders in the same street. It's a bit wartime, but why not?"
Wholesaler Bidfood this week launched a direct to consumer service offering next-day deliveries to areas around some of its depots. Other foodservice suppliers are following suit.

But the limited scale and reach of such initiatives will only help satisfy some of the demand.

Meanwhile, rules around the single-use carrier bag charge for online deliveries have also been relaxed "to speed up deliveries and minimise any cross-contamination from reusing crates".

Delivery drivers are also now permitted to work for longer. "We're relaxing the GB drivers' hours rules so supermarkets can complete more home deliveries - which is especially important for vulnerable people at this time," said transport secretary Grant Shapps last week.

Crucially for online grocery, the government has also relaxed competition laws to enable retailers to, among other measures, share distribution depots and delivery vans.

"There shouldn't be a reason why the Tesco delivery van shouldn't also be delivering Asda orders if they're in the same street. It's a bit wartime, but why not?" says Gartner's Enright. "Why send out three-quarter-full vehicles with a driver in each when you can consolidate better?"

Consolidation will help squeeze more capacity from the online grocery supply chain, Enright adds.
Helping meet demand for online groceries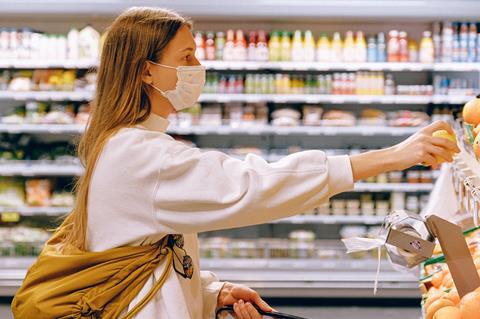 Local convenience stores
Many of the more than 46,000 local convenience stores nationwide have been launching home delivery services and ramping up existing ones. Some 12% already offered home delivery, and 26% provided click & collect, according to the ACS, but those figures are increasing. Some stores are doing deliveries themselves, or asking their local community to help, while others are extending partnerships with established couriers like Deliveroo. "Convenience stores are going above and beyond to serve local customers," says ACS CEO James Lowman. "We are well supplied, supported and ready to serve."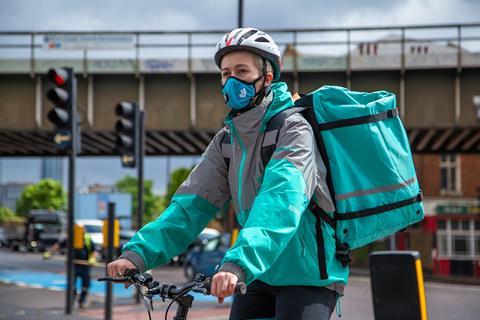 Food courier platforms
The closure of McDonald's, KFC, Subway, Greggs and other well-known chains means the most popular providers to food courier platforms are no longer serving. To plug the gap, Deliveroo has been partnering with more grocers. It this week listed 120 M&S franchise stores at BP petrol stations. Booze delivery service Drinkly is also offering a wider range of non-alcohol items and has seen orders rise 96% in recent weeks. Platforms have been redoubling efforts to onboard restaurants. Just Eat slashed commissions and removed them for collected orders. Deliveroo says 3,000 restaurants have listed in the past month.
Foodservice and wholesale
Faced with a substantial drop-off in orders from hospitality - after cafés, pubs and restaurants were forced to close and events cancelled - foodservice and wholesalers are pivoting to offer goods directly to consumers. Turner Price Food is providing free home delivery to postcodes in Hull and next-day collection from its depot and lorries in the town. WDS Group is doing free home deliveries for the elderly, those who are isolating and to hospital staff. Bidfood, JJ Foodservice, Delifresh, Savona Foodservice, Holdsworth Foods and countless others are also changing their business model to be public-facing.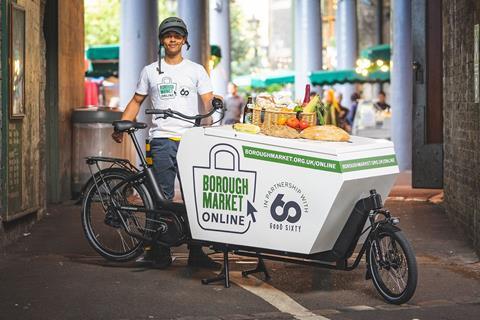 Restaurants and markets
Leon is converting its chains into mini-supermarkets and has launched an e-commerce platform and delivery service. "You have struggling restaurants and their staff ready to provide food to customers on the one hand, and supermarkets with empty shelves on the other. The balance isn't right: for customers, for people facing job losses and for businesses," says Leon CEO John Vincent. With Borough Market now deserted, its operators are focusing on its online offering, which launched in November. Originally delivering within a two-mile radius, a van fleet is now taking produce to any location within the M25.
Workforce
Making sure the most vulnerable can access online groceries will become even more essential as the impact of coronavirus on labour supply starts hitting. Those working in the grocery supply chain are not immune to Covid-19.

According to latest government forecasting, in a "stretching scenario, it is possible that up to one fifth of employees may be absent from work during peak weeks".

Tatton-Brown says Ocado doesn't yet know what effect coronavirus would have on staffing, but he concedes that online grocery operations may need to change substantially.

"This, now, is the easiest phase that the industry and society will go through," says Monteyne.

"When the real trouble hits the fan in the UK with labour shortages, e-commerce won't be the optimal solution to keep the nation fed. E-commerce is operationally one of the least efficient ways of distributing food so it will soon be a victim," he says.
Mixed messages
There are lots of reasons why people are going online for food: government advice to avoid gatherings in public places had already put many people off visiting overcrowded supermarkets; warnings against the use of public transport made getting to stores trickier; and guidance to work from home where possible removed shopping trips from weekly routines. Looming largest is Johnson's address on Monday night: "From this evening I must give the British people a very simple instruction: you must stay at home". His recommendation is people shop in physical supermarkets "as infrequently as possible".

But it is riskier for some to go shopping than others. The government has identified some citizens as extremely vulnerable for health reasons and social reasons, such as those self-isolating at home without a support network of friends and family. These people will receive basic groceries, which will be fulfilled by Bidfood and Brakes.

But what about the millions of over-70s not deemed 'extremely' vulnerable?

"Unfortunately, many older people are likely to be experiencing exactly the same frustrations as the rest of the public in getting onto supermarket websites and finding a delivery slot," says Caroline Abrahams, charity director at Age UK.

The supermarkets are now beginning to try and prioritise those most in need for access to online deliveries.

"We are doing our absolute best to offer online delivery slots to elderly, disabled and vulnerable customers," said Sainsbury's CEO Mike Coupe on Wednesday. "These customers have priority over all slots."

Some 270,000 customers, who had already given Sainsbury's information that would identify them in this group, have been contacted. More than 115,000 of them have slots booked in for this week.

Given the majority of older people are not computer users, Sainsbury's has set up a telephone helpline that has been "inundated with requests" Coupe said. "We have had one year's worth of contacts in two weeks."

Morrisons has also established a phone line for those most in need. Elderly and vulnerable customers will be prioritised for deliveries, the supermarket said.

Tesco's Dave Lewis asked existing online customers to think of those that might need the service more.

"We are at full capacity for the next few weeks and we ask those who are able to safely come to stores to do so, instead of shopping online, so that we can start to free up more slots for the more vulnerable," he asked customers in a communication on Wednesday.

That followed a message to Ocado customers on Tuesday. Ocado Retail CEO Mel Smith said the elderly and vulnerable had "long formed a substantial proportion" of its customer base. Now, she added, teams were "working tirelessly" to identify and support them further "so we can prioritise their immediate needs".

The mults are expected to soon gain access to a government database that tells them which people in England the government considers to be most vulnerable, so they can be assigned priority delivery slots.

"It's good that some of the big retailers are trying to prioritise older customers for an online delivery and the more this can happen the better," says Age UK's Abrahams.
Legacy
And what of the long-term impact of all this? Will online grocery be remembered for being an emergency service and benefit in the long run?

"This pandemic has a serious probability to increase and accelerate the rate of grocery e-commerce adoption," Monteyne says.

Much of that growth will be due to the thousands of people who have tried it for the first time.

"What we're having today is a somewhat involuntary or forced trial, of consumers who are finally trying out grocery e-commerce. Those who haven't ever tried it are all desperately trying to sign up and get home deliveries," says Monteyne.

"Retailers will suddenly have email addresses of loads of families and to re-engage with consumers after a first trial is a lot easier. Getting a first trial with a consumer is the hardest thing. It's a lot easier to get people to come back," he says.

When the crisis is over, he expects online grocery use to have risen about 2% in the UK. It's a figure supported by Enright.

"A lot more people have been trying online grocery shopping for the first time. Grandparents are creating accounts. A percentage of those will become converts, it goes without saying," he says. Which almost doesn't matter. Not now anyway.
Keeping customers and couriers safe
Doorstop drops
Ocado was the first to mandate that drivers would not be going further than customer doorsteps to "reduce the risk of [drivers] inadvertently contracting or spreading the virus".
Other online grocers have provided doorstep drops as an option and have appealed to customers to let them know if they are self-isolating or sick.
Government experts are understood to have told online grocers that it is safe for drivers to drop off food.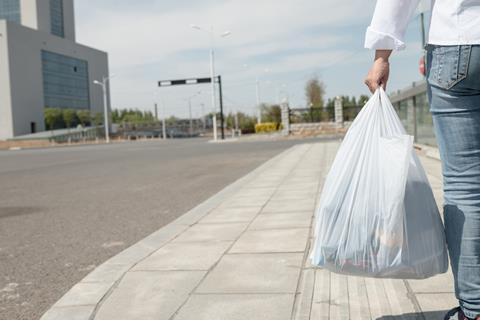 Bags and returns
Having only recently provided a bagless option or scrapped plastic bags for online deliveries, the major grocers are using them again to minimise the risk of transmission.
Typically, a plastic box, called a tote, would be taken into a customer's home and emptied. Bags have now been added so shopping can be easily left on the doorstep.
Many supermarkets are no longer accepting returns to prevent drivers touching surfaces that could be carrying the virus.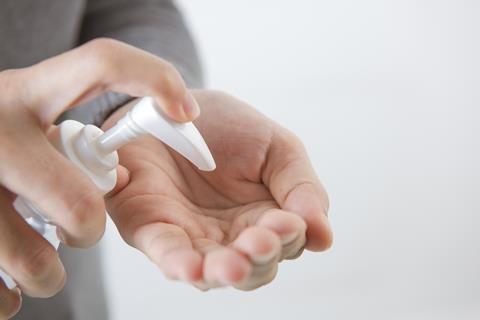 Keeping clean
Drivers have been advised to wash their hands regularly and some supermarkets have issued delivery teams with hand sanitiser.
In a communication from Ocado to its drivers, they were advised to "use wipes and cleaning products provided after each delivery" and to avoid touching their faces until they had been able to wash their hands.
Ocado drivers have also been given extra time in their daily schedules to clean their shared vans.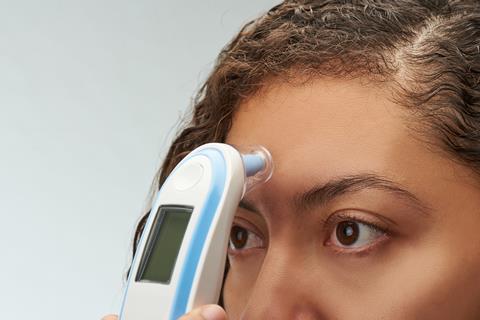 Temperature checks
A fever is one of the main symptoms of the virus. To prevent its spread, Ocado is understood to be checking the temperature of warehouse workers and drivers at the start of each shift.
The government has advised that anyone who develops a fever at work "should be sent home and advised to follow the advice to stay at home".
It has not yet been deemed necessary to send home colleagues they may have come into contact with, or whom they have helped.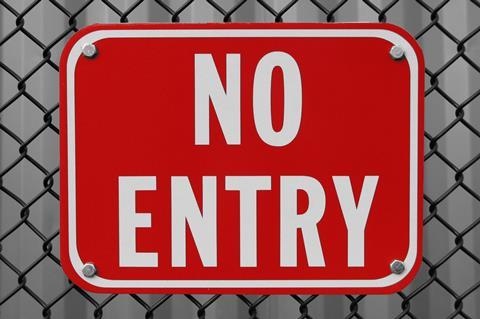 Protecting depots
Distribution centres have been heightening their resistance to coronavirus by limiting workers' interaction with lorry drivers. The Road Haulage Association has suggested operators switch to digital paperwork and wipe tablets before providing electronic signatures. It has also told drivers to wait in cabs rather than shared waiting rooms.
Some lorry drivers have reported they are being refused access to toilet and washing facilities at depots.