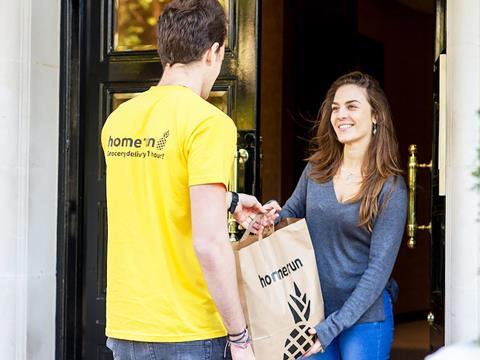 Aldi customers in London will be able to order groceries online for delivery in under two hours from Monday.

The service is launching for 20,000 postcodes in north, central and south-west London and includes the entire fmcg range of 1,700 products from a number of stores. It's being launched by Home Run, a rapid grocery delivery specialist that operates without collaboration from retailers. Home Run takes orders on its own app and website and uses contracted store pickers and couriers.

Founded in 2016, the start-up already delivers for branches of Tesco, Waitrose, M&S and Whole Foods Market. The delivery charge is £6 on average, on top of a 10%-20% mark-up on shelf prices.

The new service is not endorsed by Aldi, although the retailer has been made aware of it. Announcing the discounter's full-year results earlier this month, Aldi UK and Ireland CEO Giles Hurley said there were no plans to add groceries to its current online offering, which is limited to general merchandise and alcohol for scheduled delivery.

Speaking of the new service, Home Run CEO and founder Takis Malavetas said: "We've been receiving a lot of interest from our customers asking about Aldi and whether we will start offering products online, which led us to the decision to test the attractiveness of such an offering.

"Our team has decided to test our customer base with Aldi products and launch a pilot next Monday. Home Run customers will be able to shop a range of Aldi products and get them delivered in two hours, initially covering 20,000 London postcodes. We believe this will add significant value to London customers and demonstrate true demand when it comes to an online Aldi offering."
The Grocer revealed earlier this month how Home Run had increased its territory by 50%, adding north London areas including Hampstead to 15 postcode areas in the centre, west and south-west of the city.

The firm aims to roll out nationwide and has also partnered with on-demand delivery firm Stuart to despatch orders when it does not have its own couriers available. The business is tipped by some analysts to become the closest thing in the UK to the US's Instacart, with a new, more advanced app weeks from launch.

A Dublin-based startup, Buymie, got into legal wranglings with Aldi in Ireland last year after launching a rapid delivery service there without the retailer's collaboration. Aldi issued a cease and desist notice over the display of its logo and products in the app, then complained to the Advertising Standards Authority for Ireland that price mark-ups were misleading. The complaint was upheld. Buymie changed the app, listing Aldi as 'German Discounter', and last month began delivering for Lidl in Dublin instead, in a trial recognised by the supermarket.

Meanwhile Aldi announced in the US last month that an Instacart grocery delivery service was to be expanded from four cities to 35 states by the end of November. The move led some analysts to anticipate that a similar service was likely to be launched in the UK.