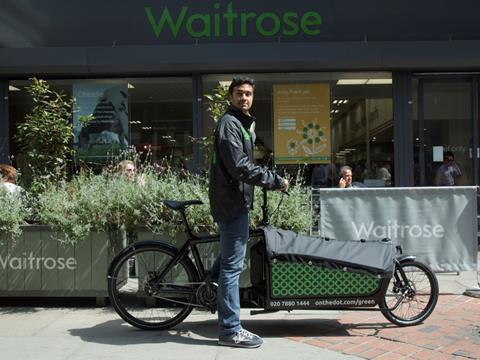 Waitrose has launched a two-hour delivery service in central London, aimed at convenience shoppers.

Called Waitrose Rapid Delivery, the service is available from today in eight London postcode areas: SW5, SW6, SW10, WC1, WC2, EC1, CR5 and CR8.

Customers can order up to 20 items from over 1,500 grocery, toiletry and household products using a new dedicated website, rapid.waitrose.com. Ranges available include fresh fruit & veg, ready meals, frozen and BWS.

The minimum basket value is £10 and the delivery charge a flat £5. Before checkout, customers choose either a scheduled one-hour delivery slot for later the same day or rapid delivery within two hours of order. The delivery hours are 10am to 10pm on Monday to Saturday, and 10am to 6pm on Sunday.

Orders are picked by Waitrose staff at two stores, in Fulham and Bloomsbury, as well as a distribution centre in Coulsdon, and delivered by rapid courier company On the Dot.
The postcodes had been chosen based on a high number of convenience shoppers in those areas, but the service would be rolled out further if successful, Waitrose said.

The Grocer revealed in June that On the Dot was weeks away from launching a rapid delivery service for an unnamed major supermarket in central London. A subsidiary of City Sprint, the on-demand logistics specialist has the infrastructure to perform grocery deliveries to 88% of the UK with sufficient store partners, its CEO Santosh Sahu said at the time.

The company already delivers for non-grocery retailers and takeaway restaurants nationally, with partners including Dixons Carphone, fulfilling orders for each of the electrical chain's 250 branches. Other partners include Wickes.

Waitrose orders will be delivered by On the Dot's vans and cargo bikes, with the 20-item limit set so as not to overload the latter.

"The trial is designed to respond to the increase in customers shopping 'as and when'," said a Waitrose spokesman.

"According to research carried out for the Waitrose Food Report 2017/18, two-thirds of us regularly or occasionally visit a supermarket more than once a day. This trend is particularly prevalent among 18 to 24-year-olds who are twice as likely to regularly visit a supermarket twice a day as the over-55s."

Waitrose head of business development Richard Ambler said: "Customers are increasingly wanting to buy whatever they want when they want it. For many, we have moved away from the weekly supermarket visit to give us more fluidity with our busy lives and give us better control against over-buying and waste. Our trips to the supermarket are therefore much more frequent.

"Waitrose Rapid Delivery ensures we give our customers even greater flexibility and convenience to get their shopping as and when they want it."

Sahu added: "The grocery sector is undergoing its biggest shift for decades, one where convenience and immediacy will win. Customers are shifting away from the routine of the big weekly shop. Instead, time-poor and convenience-driven consumers are opting for ultra-fast deliveries of small baskets at a time that suits them. Waitrose & Partners has always put the customer first and this partnership recognises the influence that delivery has on a customer's shopping experience."