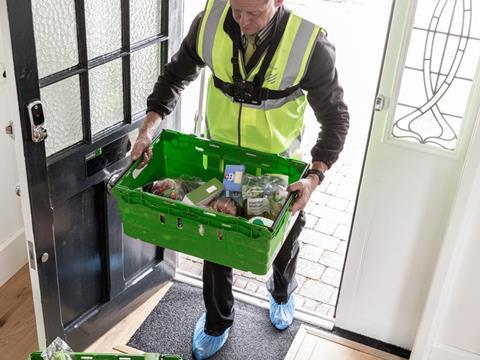 Waitrose has launched a delivery service that allows drivers to enter customers' homes while they are out, and put their groceries away.

Customers grant access to a Waitrose delivery driver by setting a temporary access code for the lock using Yale Smart Lock technology. This code is then sent to Waitrose via a secure app before being sent to the driver's device at the time the customer has booked for the delivery. It is then deleted once the delivery is complete.

As part of the trial service, called While You're Away, Waitrose delivery drivers will also put refrigerated and frozen goods away and leave other groceries on the kitchen counter, or as instructed by the shopper. The entire delivery will be captured on a chest-camera worn by the driver, with the video available on request for the customer the next working day.

Waitrose is the first UK supermarket to offer grocery deliveries that include unpacking the items, and it will test demand for the service with 100 homes located in the delivery area of its Dotcom fulfilment centre in Coulsdon, South London. Due to the small number of customers involved at this stage, there is a minimum number of six orders per shopper.
In addition, there is a minimum order value of £25 but no delivery fee during the trial.

If it does prove successful, Waitrose anticipates making While You're Away available to over 1,000 customers in spring 2019. A spokesman said a minimum order spend will be unlikely if the service is fully rolled out.

Customers can find out if they are eligible for the trial or can register their interest in using the service in the future by visiting www.wya.waitrose.com.

Waitrose would not confirm whether While You're Away would be rolled out to all customers eventually at this stage.

"There is certainly an increasing demand among our customers to make shopping with us even more convenient to fit around their busy lifestyles," said Waitrose's head of business development, Archie Mason. "Rather than waiting for a delivery or trying to put everything away, this gives customers more flexibility to use that time differently, including more time enjoying cooking and eating the food they've bought. The concept of 'in-home delivery' has started to prove popular in other countries so we are keen to establish if there is an appetite for it in the UK."

A spokesman for Waitrose told The Grocer it launched While You're Away in response to customers wanting convenient access to its products and services around their busy lifestyles. "We have carried out extensive research with our customers to understand their needs," he said.

The launch follows Waitrose's announcement of its two-hour delivery service, Waitrose Rapid Delivery, across eight London postcode areas. Shoppers in these postcodes can have up to 20 items delivered using a dedicated website.

The minimum basket value for Rapid Delivery is £10 and the delivery charge a flat £5. Waitrose told The Grocer that although Rapid Delivery and While You're Away are two "separate concepts at present", it will review customers' appetite for each.

"We are keen to explore what other opportunities there might be in the future, which includes the potential to offer services like John Lewis click & collect," the spokesman said.