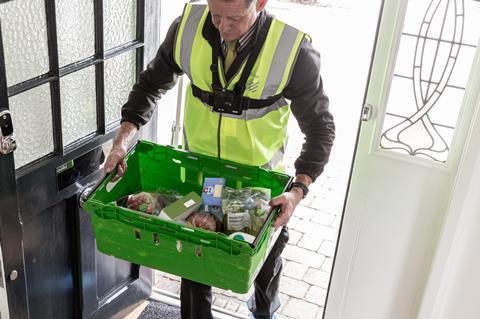 Waitrose MD Rob Collins said the investment in its online offer over the past three years has left it well-positioned for growth, despite today's news its partnership with Ocado will come to an end next year.
He told The Grocer he remained "confident" Waitrose could achieve the target it set last summer to double its online grocery business within five years. He said online currently accounted for 5% of total sales at Waitrose.

Collins explained high service levels were "vital" to this goal, which he believes consists of "keeping availability high, delivering orders on time, tracking exactly where drivers are and forming solid relationships between partners and customers with the same drivers going to the same customers' doors each time".

Waitrose has invested £80m into its website over the past five years in preparation for its 19-year tie-up with online retailer Ocado coming to an end in 2020. Its online customer satisfaction rates are also up 6% so far this year, and 85% of customers who shop with the upmarket grocer online also do so in its stores.

Collins called this a "great number," but added it was looking to "push it even further".

To attract Ocado shoppers used to purchasing Waitrose products, the retailer is also looking to make its online offer as straightforward as possible. "Understanding shoppers' needs is critical to that, which is why we've spent so much on improving the journey of our website and ensuring our offer is very distinctive," he said. "The e-commerce bar is rising all the time so we're continuing the momentum we've created with our online business so far, including responding to what customers tell us they like and what they would like to change about our Rapid Delivery service, such as introducing late delivery slots until 6pm."
Waitrose is also planning to open a second fulfilment centre to support its online business growth. "We will be able to welcome thousands more online customers to Waitrose from the end of this year," Collins added.
Richard Hyman, director of RAH Advisory, said Waitrose had to continue to differentiate for its core customers rather the get involved in price wars.

"Waitrose is looking to reposition itself to where it used to be. It chased price down too far, and has therefore been trying to invest more in restoring quality over the past 12-18 months," said Hyman. "Online retailing is not an easy market for retailers wanting to distance themselves from the price-led players, but Waitrose is not and can never be such a player. It's middle class, aspirational and has to celebrate the fact that it's more expensive."

The joint venture between M&S and Ocado will see M&S acquire a 50% share of Ocado's UK retail business, which will continue to trade as Ocado.com with access to M&S's brand, products and customer database from September 2020.