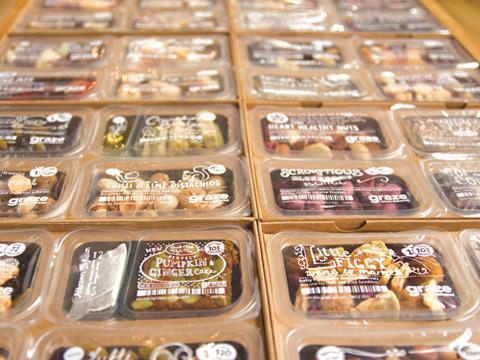 As expected, Unilever yesterday closed the deal to buy healthier snack brand Graze in new CEO Alan Jope's biggest move since taking the reins of the Anglo-Dutch consumer giant at the beginning of the year.

The move is partly explained by a desire to add healthier options to Unilever's food portfolio, which largely comprises ice cream and condiments.

"Accelerating our presence in healthy foods and out of home, this is an excellent strategic fit," Nitin Paranjpe, president of Unilever's food & refreshment arm, said of the acquisition.

But there will be another appeal to Unilever in the direct-to-consumer component of Graze, which launched in 2008 as a snack box delivery service.

D2C has been an important channel for Unilever since its acquisition of Dollar Shave Club in 2016, though the business has tended to say little on the subject.

But last week brought some insight, when Jope commented in an earnings calls on Unilever's thinking on the US razor subscription service, and on D2C more widely.

So, what clues did he provide as to Unilever's interest in Graze, and its plans for DSC, for which the supplier paid a rumoured $1bn?

Founded in 2012, DSC has built its subscribers to almost four million. It added another 10% last year and ended 2018 in double-digit growth despite disappointing Q4 results for Unilever as a whole.
Jope's comments last week revealed how DSC is seen as occupying an area of growing importance.

"Our e-commerce business now represents just over 5% of Unilever," he said. "Last year, we saw 50% growth in our e-commerce business, which is, of course, ahead of the global e-com market growth. And for the avoidance of doubt, it is a very high priority for us to maintain accelerated growth in that channel."

On DSC specifically, he added that Unilever was "really pleased with the development of the business there. We have made very good progress on taking it from cheap razors to a full male grooming brand."

He stressed DSC's "tremendous range of haircare, skincare and general male grooming products" - which became a focus for the brand last year as it made itself more flexible in a bid to increase average basket size and frequency of purchase. To mark its move beyond just razors, the service launched ads to highlight its expanded portfolio.

In the process, Unilever had "learned an awful lot about direct" said Jope. A key lesson had been in eliminating dead ends.

"In fact, we've stopped a lot of wasted effort on direct-to-consumer business models. My own view is that with the technology that's available right now, direct-to-consumer really makes sense when either you can have a recurring revenue from the subscription model, à la Dollar Shave Club, or you can you have a very high basket - a single basket with good margins, such as with our [hair and skin care] Prestige business.

"That's where direct-to-consumer is a big part of the business. Selling one bar of Dove soap direct-to-consumer online: that's not an attractive outlook for the future."
D2C slowing at Graze
At Graze, the D2C component of the business has arguably slowed. Latest full-year results in December 2018 showed sales overall dropped 5.2% in spite of a strong performance from the brand's grocery operations, where sales value, as measured by Nielsen, rose 4.8% to £88m across the UK and US.

But sources believe the appeal of the brand may lie in the opportunity it presents for Unilever to acquire further expertise in D2C, rather than the latest numbers.

"The model is what's really interesting for Unilever," one City source told The Grocer last week. "It may well be Unilever is going for it because they feel they can learn some D2C lessons and expertise to apply elsewhere in their business."

The view was borne out by comments from Paranjpe on the announcement of the Graze acquisition: Unilever looked forward to "leveraging their tech and e-commerce expertise for our wider portfolio".

In his earnings call, Jope offered insight into where Unilever sought to make use of lessons learned so far, describing Asia as where major growth lies.
"We're seeing e-commerce is a relatively large part of our Chinese business and growing very quickly, even in markets such as India, such an important market for Unilever."

International expansion of DSC beyond North America, Australia and the UK was "definitely possible" he said. But it wouldn't be straightforward "because each market has its own characteristics on consumer habits and insights, different competitive context…

"And so, I'd give us a green on overall Dollar Shave Club growth, a green on evolving to become a full male grooming brand, a bright green on learning, and probably a yellow on international expansion."

If Jope is to apply similar thinking to its new acquisition, it's no wonder the UK snack brand's CEO Anthony Fletcher described it as a "transformational moment in Graze's growth journey".

But it's just as likely that Graze will play an crucial role in transforming an increasingly important area of Unilever's business.