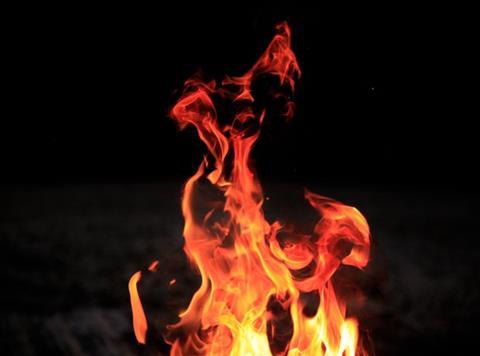 There's no smoke without fire. And disastrously there's been a lot of both at Ocado as its Andover CFC was razed to the ground this week. The only mercy is that no one was hurt. Oh, and Ocado is fully insured. But it's a serious blow in the short term, with 10% of its UK capacity taken out, and possibly even the long term: Kroger et al won't want its state-of-the-art solutions if they catch fire, so it will want to understand how it started and why its sprinklers and fire suppression systems didn't put it out, to reassure nervous investors.

But what about the other smoke? The sparks around Marks? The fire at Andover has focused attention away from the rumours of a supply switch but at Ocado's press conference earlier in the week CEO Tim Steiner did nothing to quell the rumours. And that's not surprising. Because the case for switching is quite compelling, strategically and emotionally.

For several years Ocado has had to compete against its biggest supplier. Waitrose competes aggressively, too, offering free delivery and other sweeteners. When I searched the term 'Ocado' on Google under 'Shopping' the first result was an ad for Waitrose. The relationship is not as strained as it was back in the days when ex-Waitrose MD Mark Price was trying to drive Ocado out of existence. But it's an odd arrangement.
Ocado has been forced to create its own private-label range (now 677-strong) to fill in gaps in the 4,000-strong Waitrose own-label range. It's been sourcing directly from brands for a number of years now. And Ocado may be mindful of rumours Amazon wants to buy Waitrose (albeit its advances were reportedly given short shrift).

What's in it for M&S?

Then there's the argument on the Marks & Spencer side. It's always argued (even when Stuart Rose was sitting on the other side of the fence, let alone now Steve Rowe is peeking over it) that M&S customers don't do a big weekly shop at M&S. Hence why it didn't pick up the business, as it could have done for a song back in the day. But if you combined the M&S own-label range with the other 46,000-odd Ocado SKUs, they could, couldn't they? And arguably they would if the Rolls-Royce service it delivers was available, especially if it can be delivered even quicker via Ocado's new Zoom service.

Again they would probably need to fill some gaps in the M&S range, but that's not exactly difficult, assuming M&S still has a future given its current woes and the deterioration in the high street. Under these circumstances M&S is just another brand that Ocado sells, albeit a big one. But crucially it would be a unique one. Ocado would be the website you go to buy M&S food. At the same time it would solve a big headache for M&S, which remains obdurately offline on almost 60% of its business, which is where it's always had a competitive advantage.

But perhaps the most compelling opportunity in teaming up with Ocado is not actually on the food side. We know M&S wants to increase online GM sales from 20% to 33% by 2022. So maybe Ocado is part of the solution. Its current websites and fulfilment systems have been plagued with difficulties. Maybe the answer is a best-in-class solution from Ocado. After all, if you can deliver food online, you can deliver anything.