Marks & Spencer's Christmas 2023 range is here, featuring a deconstructed Colin the Caterpillar.
M&S says the range is the result of a series of deep dives into customer insights, with the results promising "delicious, decadent, and fuss-free food".
New items include pulled beef & potato rosti towers, sparkling rosé with edible gold leaf, magical Christmas village chocolates, and snowmen steamed bao buns.
Best Ever Prawn Toast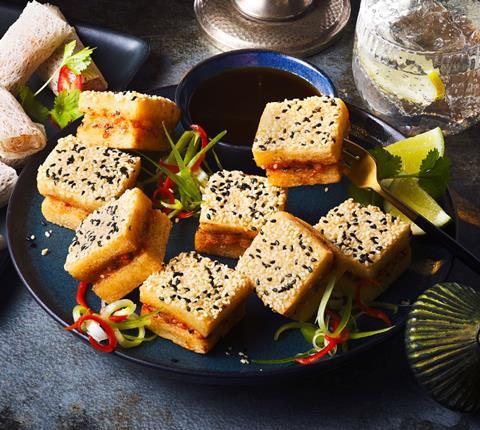 £7/248g
Available 18 October
This prawn toast is not just a slice, but small sandwich. Each bite-sized party piece contains black tiger prawn toast with spring onions, ginger and a zingy ponzu dip.
Vegetable Spring Rolls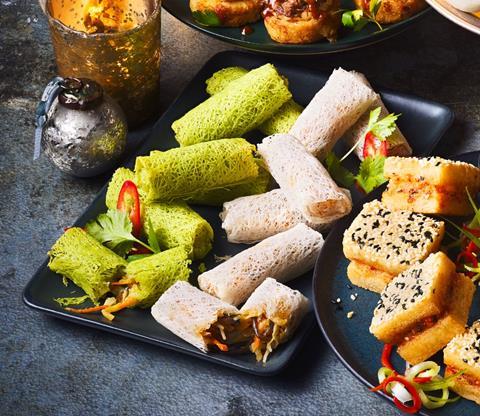 £5/240g
Available 18 October
Delicate rice netted spring rolls with Asian-inspired vegetable fillings.
Collection Pulled Beef & Potato Rosti Towers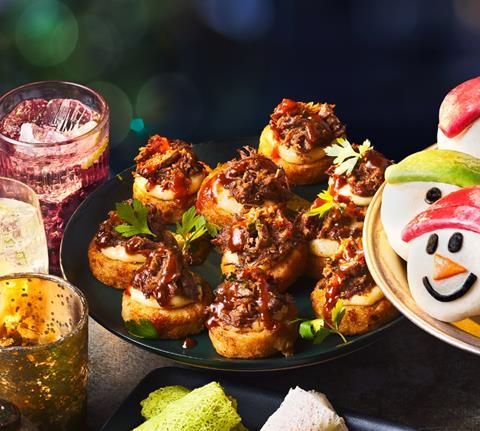 £7/325g
Available 18 October
These hors d'oeuvre are a miniature roast dinner in a single bite. They feature slow-cooked pulled beef, Italian cheese and potato, fried and stacked with a red wine and port jus.
Snowmen Steamed Bao Buns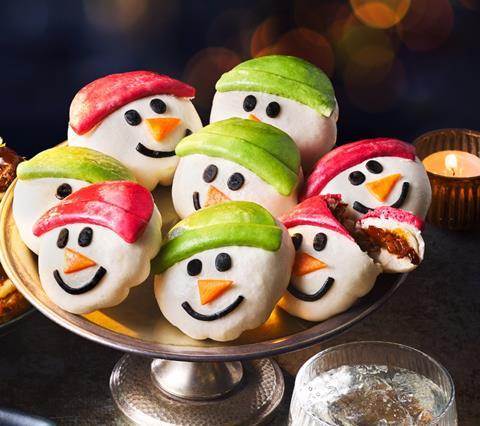 £7/320g
Available 15 October
Competing with Tesco to take full advantage of the soaring popularity of bao buns, Marks & Spencer's handmade steamed bao buns are filled with vegetables in hoisin sauce.
Christmas Jumper Colin the Caterpillar Cake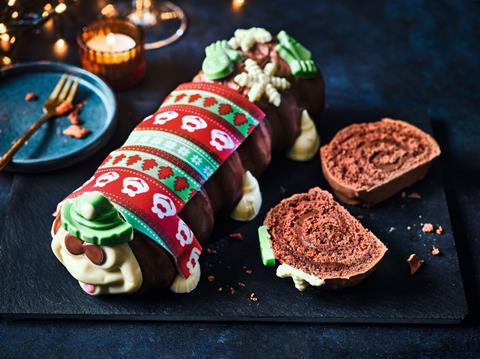 £12/660g
Available 13 December
This year's obligatory Christmas-themed Colin the Caterpillar is competing in the office's annual ugly jumper competition, wearing a fetching print of his own face. The chocolate sponge roll filled with chocolate buttercream and coated in milk chocolate.
Trio of Christmas Liqueurs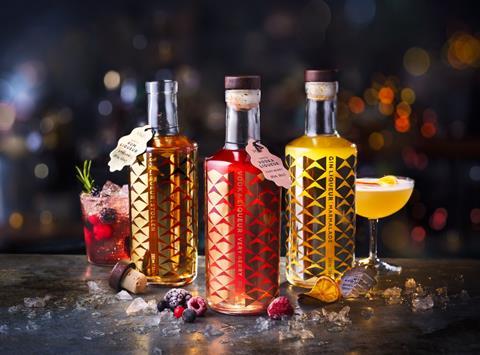 £15/50cl
Available now
Light up bottles of Very Berry Vodka Liqueur, Stollen Rum Liqueur and Marmalade Gin Liqueur. 20% vol each.
Trifle Caked Alaska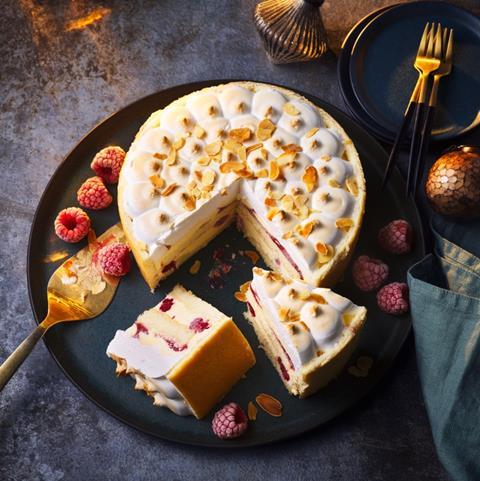 £12/720g
Available 26 September
This is a meeting of ideas that harks back to the 20th century, by which we mean the 1980s. The baked Alaska meets trifle meets cake. This one features layers of sugar soaked sponge, custard semi freddo, raspberry sauce, whole raspberries, topped with mallow and toasted almonds.
Collection Scottish Salmon with Peppercorn & Maple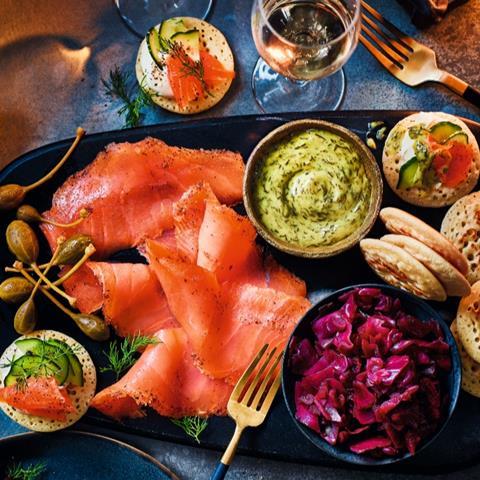 £5.50/100g
Available 6 December
Slices of oak and maple wood smoked salmon with maple syrup and pink peppercorns.
Garlic Bread Twist with Camembert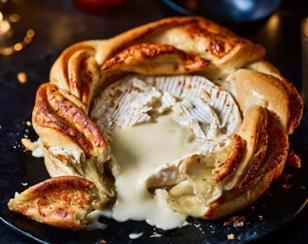 £8/415g
Available 22 November
A whole French camembert cheese is wrapped in a rich and indulgent bread that's made with garlic butter. Tear off a piece and dunk it in the "creamy, oozing melted" cheese centre for a little bite of heaven.
Very Jelly Munch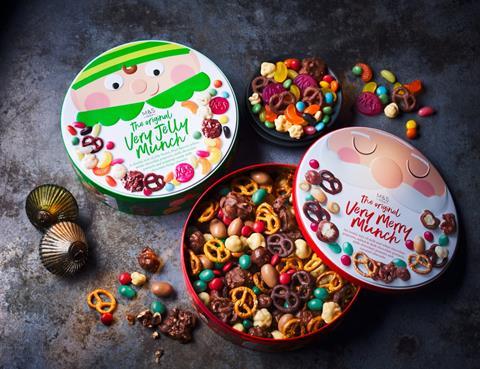 £9/460g
Available now
Jelly beans, fruit flavour jellies, white chocolate popcorn, milk chocolate pretzels and popping candy milk chocolate caramel clusters.
Tiramisu or Millionaire's Flavour Irish Cream Liqueur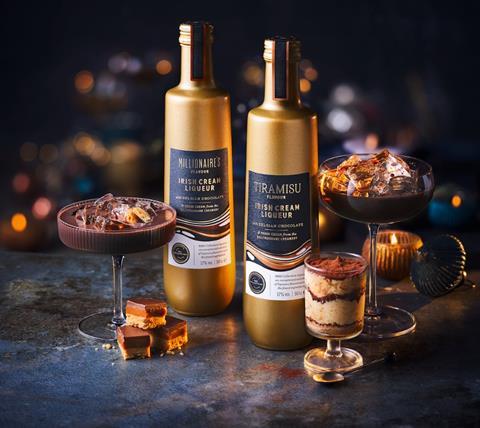 £12/50cl
Available 31 October
These liqueurs come in caramel and Belgian chocolate or traditional Italian tiramisù flavour, with coffee, rich Belgian chocolate, and fresh cream from the Ballyrashane Creamery. Each have an abv of 17%.
Marks & Sparkle Rosé Fizz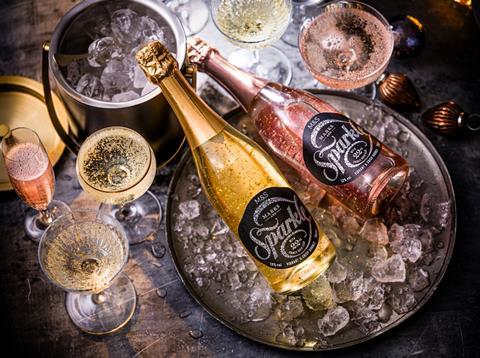 £10/75cl
Available now
Targeting the ultimate party hosts, M&S has launched a pair of sparkling wines, with flakes of 22 carat edible gold leaf to give toasts an extra something special.
Colin's Greatest Bits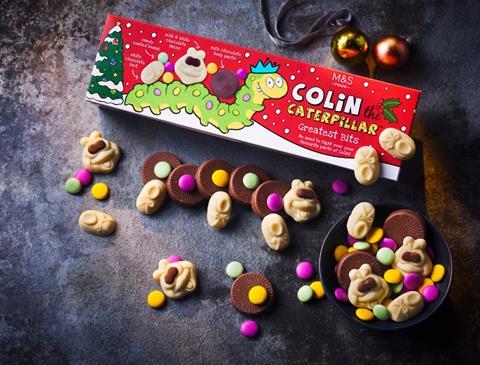 £5/250g
Available now
A deconstructed Colin with white chocolate feet, white & milk chocolate faces and milk chocolate body parts with candy coated nibs.
Passionfruit & White Chocolate Yule Log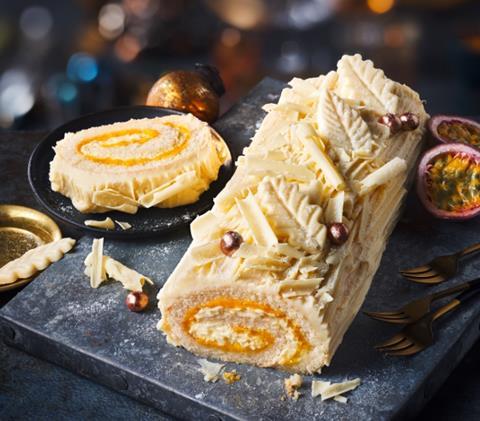 £15/800g
Available 18 December
Sponge coated in a white chocolate ganache and filled with passionfruit sauce and white chocolate mousse, hand decorated with white chocolate shavings, white chocolate leaves, gold dusted biscuit balls with a sugar dusting.
Magical Christmas Village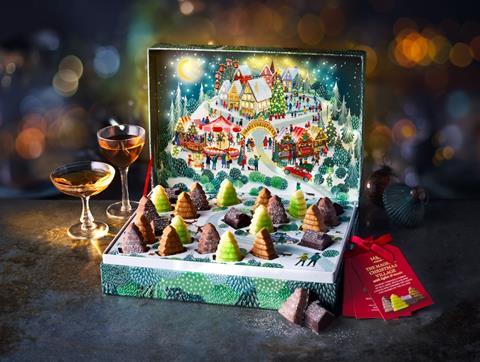 £15/249g
Available 26 September
Box includes milk, dark, white and blond chocolate trees and houses. Open the lid to reveal the lights and tune.