Marks & Spencer is tapping into an array of regal themes for its limited-edition Platinum Jubilee range, which began rolling out to stores this month. As well as crowns, corgis and coronation-inspired products, shoppers can expect plenty of classic British flavours as the retailer caters for patriotic parties and picnics.
Coronation chicken trio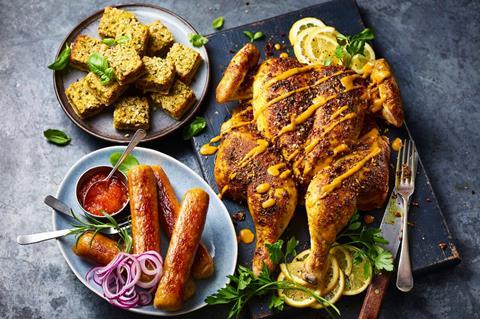 Coronation Chicken Quiche Bites
£6 for 12/270g
It's no surprise coronation chicken, which M&S is calling 'the flavour of the season', is making multiple appearances in the retailer's Jubilee range. Three products inspired by the classic dish will be coming to stores on 1 June, including Quiche Bites (pictured above). The bite-sized curried quiches are topped with a crunchy parsley crumb and are best served warm, according to the retailer.
Coronation Chicken Sausages
£4.50 for 4/430g
The second product taking inspiration from the Queen's coronation dish is Coronation Chicken Sausages (pictured above). Aimed at bank holiday barbecue occasions, the sausages are flavoured with a 'mild, family-friendly' spice mix and come with a mango chutney for drizzling or dipping.
Coronation Spatchcock Chicken
£8/1.6kg
Consumers looking for something different on their barbecue or Sunday lunch table may be tempted by Marks' Coronation Spatchcock Chicken (pictured above). Feeding four people, the whole chicken has been brined to ensure "extra succulence" and seasoned with a coronation rub, and is served with a coronation-flavoured drizzle.
Ham & Egg Sandwich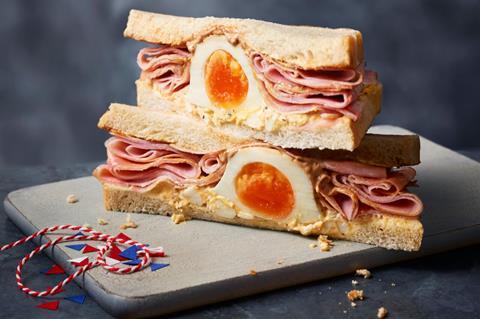 £4.25
Even meal deals are getting the fancy treatment this Jubilee weekend. M&S has elevated the humble ham & egg sandwich by including a whole soft poached egg as well as smoked British dry-cured ham and egg mayonnaise. The white bread sarnie comes complete with brown sauce-flavoured mayo.
Honey Roast Ham Sausage Roll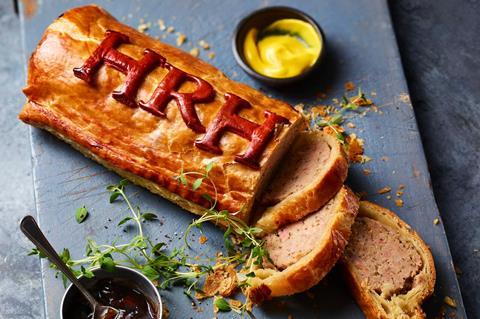 £10/510g
The initials HRH take on a double meaning with this centrepiece sausage roll, which is large enough to serve six people. As well as having royal connotations, the pastry decoration is a nod to the filling, which is made using ham roasted in honey and mustard.
Cheese truckles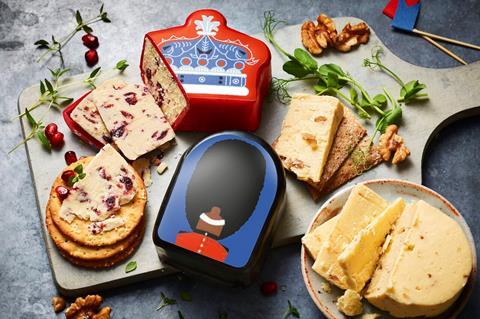 £2.75 each/200g
Shoppers can add a touch of fun and colour to their Jubilee cheeseboards with this pair of wax-wrapped truckles. The first, in the shape of a crown, contains wensleydale studded with dried cranberries. This is joined by a Mature Cheddar Cheese & Onion Guard, containing British medium Barber's cheddar laced with balsamic vinegar-roasted onions.
Caramel Corgi Mousse Cakes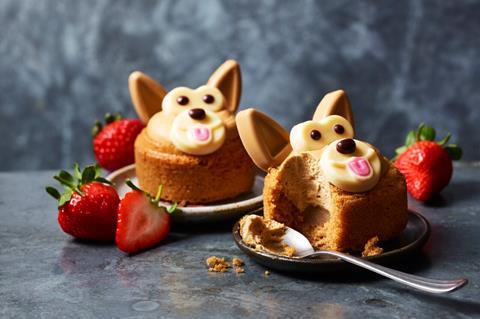 £5/2x170g
The first of three products inspired by Her Majesty's beloved pets are these Caramel Corgi Mousse Cakes, which come in packs of two. They comprise a sponge base filled with salted caramel, topped with caramel mousse and decorated with chocolate corgi faces. They will be available in stores from 1 June.
Limited-edition corgi meets Jubilee Connie the Caterpillar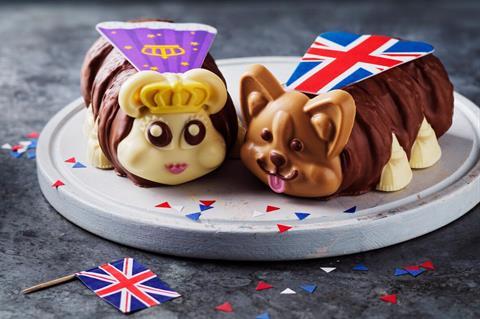 £10/720g
Colin is stepping out of the limelight this month and making way for Connie, who has been given a Jubilee makeover complete with a crown and cape. The queenly caterpillar is joined by her faithful corgi, who is dressed in a union jack cape. Both cakes are made to the same popular recipe, comprising a chocolate sponge roll filled with chocolate buttercream and covered in a thick milk chocolate shell.
Corgi Gingerbread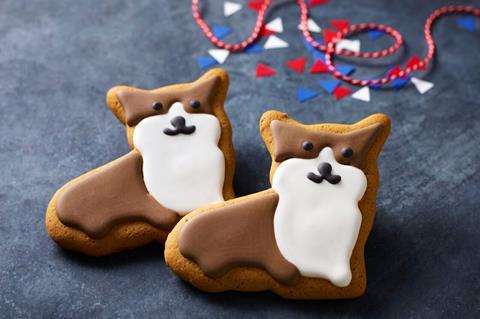 £1 each
Dog biscuits, but not as you know them. These gingerbread biscuits are shaped like corgis and decorated with fondant icing to resemble the Queen's favourite pooches.
Right Royal Yumnut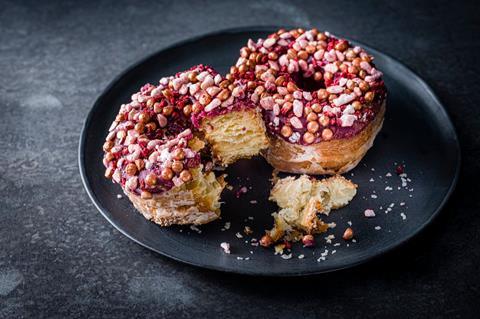 £1.50 each
Taking inspiration from the royal crown itself, M&S's Right Royal Yumnut – a cross between a yum yum and a doughnut – is adorned with cherry fondant, shimmered biscuit balls, meringue pieces and freeze-dried raspberries.
British Strawberry Gin Liqueur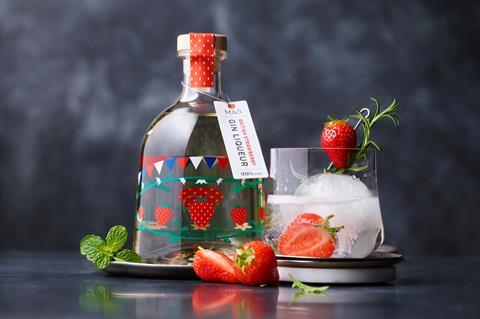 £16/70cl
No fruit epitomises the British summertime quite like strawberries. M&S has used the berries to infuse this 20% abv Jubilee-themed gin liqueur, which it recommends neat, mixed with tonic or in a celebratory cocktail.
Platinum Jubilee Ale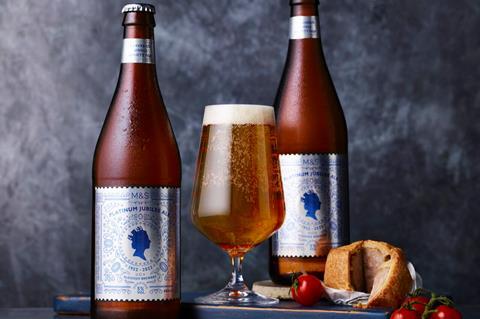 £3/660ml
Presented in an impressive 660ml bottle with a shimmering silver label, this Platinum Jubilee Ale is made using exclusively Sovereign hops. The hop is an English variety, first bred at Wye College in the 1990s, with floral, herbal and earthy tones.