The supermarkets have made every effort to get carveable main courses and satisfying sides that are suitable for everyone at the Christmas table this year. As well as vegan takes on Christmas dinner must-haves, there are several new dairy-free, showstopping desserts making their way to supermarket shelves for the festive season. Here's our pick of plant-based launches coming to stores this Christmas.
We'll be updating this article with new launches as they are released, so check back later to see more.
Asda
Yule Log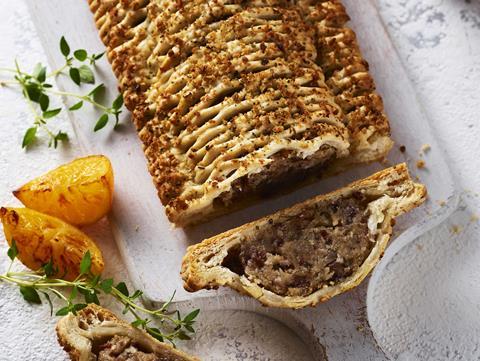 A sliceable meat-free main, this vegan puff pastry yule log is filled with veggie mince, chestnuts and cranberries, topped with a sage and onion seasoning sprinkle.
Vegan Turkey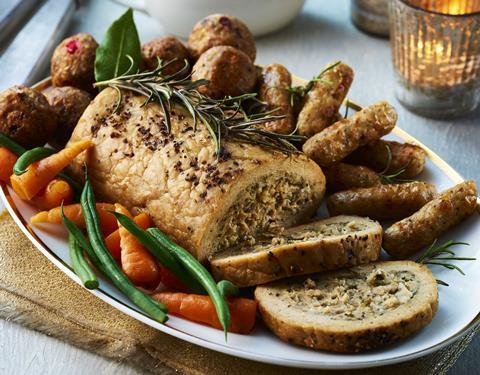 Asda says this centrepiece is the "perfect pick" for vegans at Christmas. The soya-based joint is seasoned with black pepper and bay leaves and is filled with a caramelised onion and herb stuffing. It's pictured alongside the vegetable-based Chestnut, Cranberry and Apple Stuffing Balls and the soy-based Spiced Apple and Orange Cocktail Sausages.
Christmas Cottage Dessert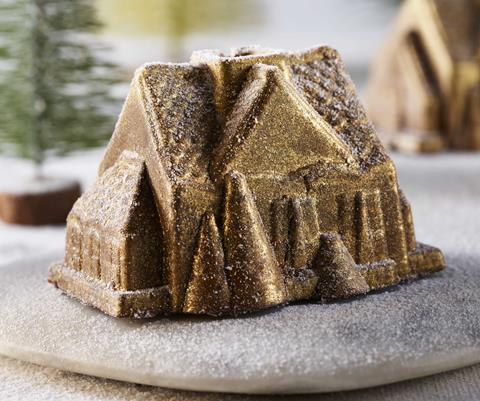 This sweet winter cottage is completely dairy and egg-free. The dark chocolate shell has a chocolate mousse centre laced with a morello cherry compote and sits atop a tiffin base made with chopped dates, raisins and dark chocolate.
Bao Buns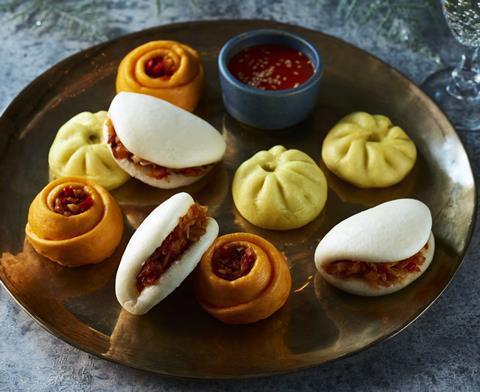 Asda has certainly, er, beefed up its vegan party food selection for this year. There's a selection of bao buns and dim sum filled with various meat-free fillings like barbecue jackfruit, char sui mushroom and massaman veg. It's joined by a Mexican-style vegan selection which includes mini chilli bean burritos and vegetable nacho triangles and an oriental selection (pictured at the top) including mini duckless spring rolls, katsu won tons and vegetable fritters.
Aldi
Vegan Pigs in Blankets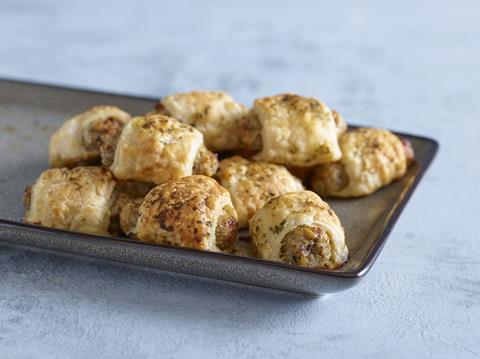 Meat-free cocktail sausages (which will also be available without the blankets) wrapped in dairy-free pastry, flavoured with herbs and pepper. They'll be in chillers from 19 December.
Vegan Turkey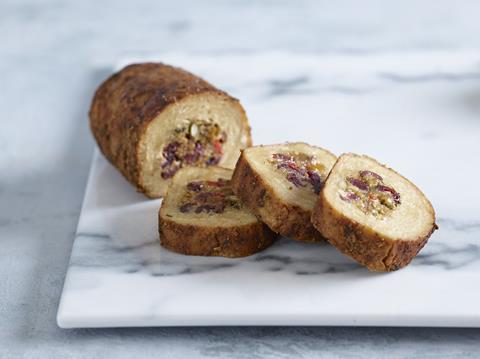 This carveable soya roast is filled with a cranberry, red pepper, apricot and pumpkin seed stuffing, coated with a barbeque flavour glaze. It will be in the frozen aisle from 16 November.
Fusion Skewers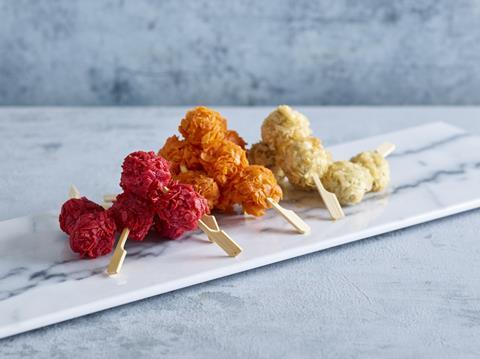 Banishing beige from Christmas parties, these bright vegetable skewers come in three flavours: sweet chilli, satay and Thai green curry. They'll be in freezers from 26 October.
Hamper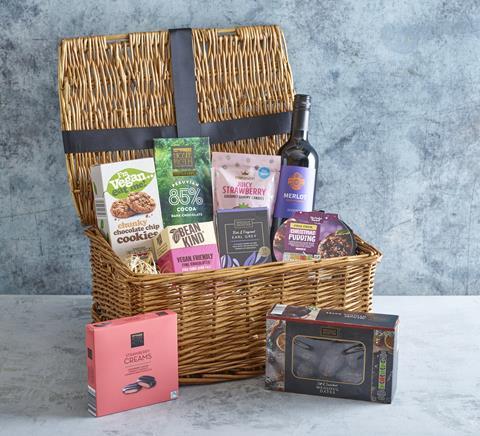 Aldi's first-ever all-vegan hamper is packed with free-from Christmas pudding, a free-from iced fruit cake bar, medjoul dates, Bean Kind truffles, fruit creams, wine and more. The price isn't confirmed but it's likely to be around £29.99.
Tesco
Wicked Kitchen Wellington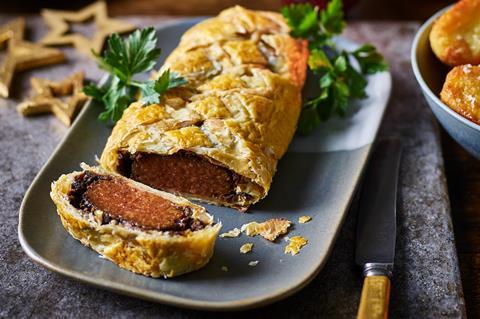 One of Tesco's entries for the vegan main on Christmas day is a hand-rolled no-beef wellington. The centre is made from pea protein with a garlic porcini and chestnut mushroom duxelle and it's covered in flaky puff pastry. It serves four and will be in stores in late November.
Wicked Kitchen No-Turkey Roast Crown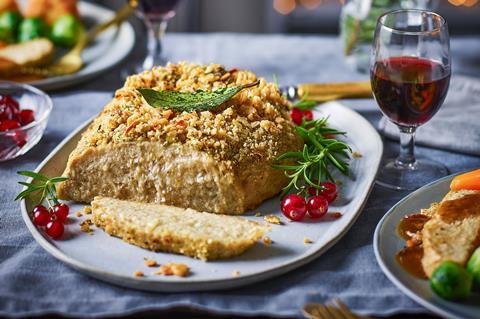 According to Tesco, this "tender and juicy" turkey alternative carves just like the real thing. It's made with a combination of soy and wheat protein for texture, is topped with a sage and onion stuffing crumb and is cooked and ready for the table in 45 minutes.
Wicked Kitchen No Prawn Firecracker Dippers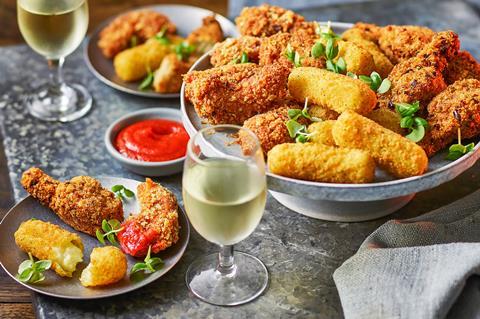 There are three new vegan party food lines on the way under the Wicked Kitchen brand. The no-prawn soybean dippers are seasoned with kicks of spice and smoky barbecue sauce, there are 'no-chicken' plant-based drumettes covered in spicy breadcrumbs and oozy, dairy-free no-mozzarella sticks. They're coming to stores from mid-October.
Plant Chef BBQ Bon Bons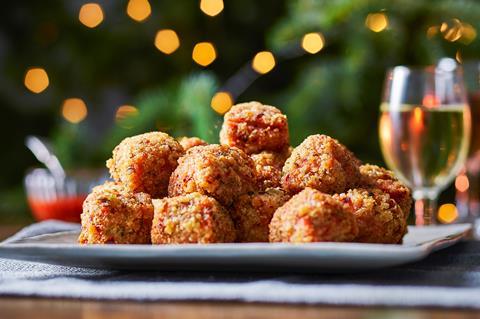 These bon bons are filled with pulled jackfruit marinated in smoky barbecue sauce, coated in breadcrumbs. They're £2 for a pack of eight and they'll be in the frozen aisle from mid-September.
Plant Chef Pigless Blankets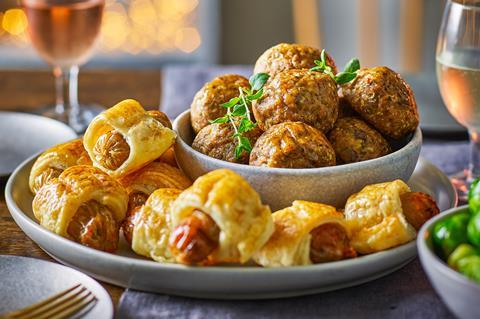 Coming to stores in a 10-pack from 23 November for £2, these meat-free pigs in duvets are made with Cumberland-style pea protein sausages, roasted mushrooms and onions, hand-rolled in vegan pastry. They're pictured here alongside the vegan sage and onion stuffing balls, also made with pea protein.
Wicked Kitchen Ginger Chai Cake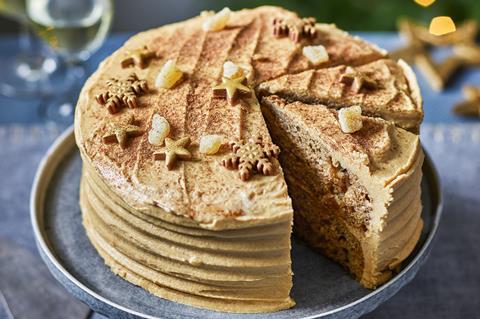 This launch is the first Wicked Kitchen celebration cake for Tesco. The plant-based ginger sponge is soaked with spiced chai tea and decorated with thick frosting, cinnamon sugar and caramelised ginger pieces. It will be in the cake aisle from the end of September for £9.
Waitrose
Vegan Festive Filo Swirls
These filo pastry swirls are filled with Moroccan-spiced vegetables, apricots and raisins, topped with flaked almonds. They come in a pack of two for £6.99.
Breaded Baking Vegan Melts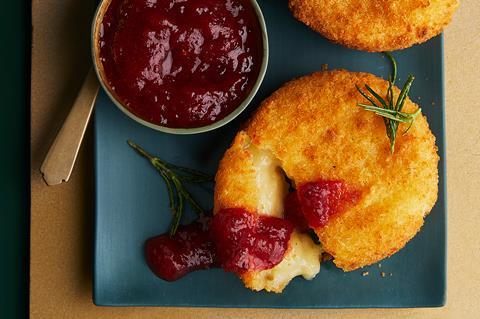 Waitrose has stood up to the ultimate test in plant-based cuisine, melting vegan cheese. The retailer says this coconut-based cheese alternative not only melts but is "gooey and moreish". It's coated in golden breadcrumbs, serves two and will be on sale for £4.
Roasted Roots Wrap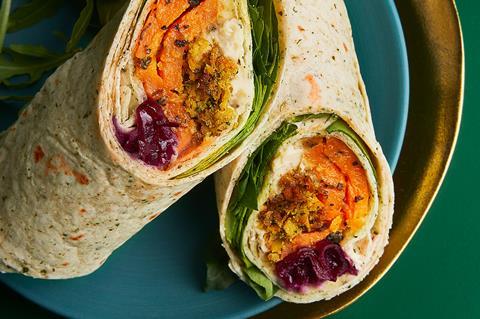 New to the food to go chiller, this spinach tortilla wrap is filled with festive veg falafel, braised red cabbage and a smear of cannellini bean and parsnip houmous.
Co-op
No Duck Spring Rolls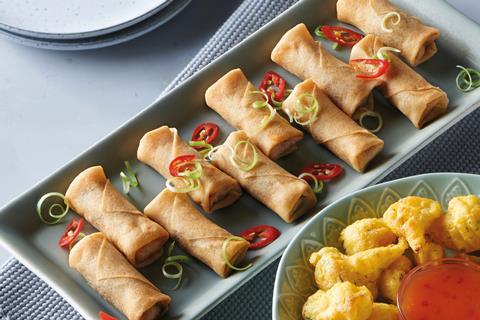 A new addition to the retailer's Gro vegan range, these spring rolls contain a mixture of seasoned vegetables, jackfruit and oyster mushrooms wrapped in crisp filo pastry. A pack of ten will cost £2.25.
Root Veg En Croute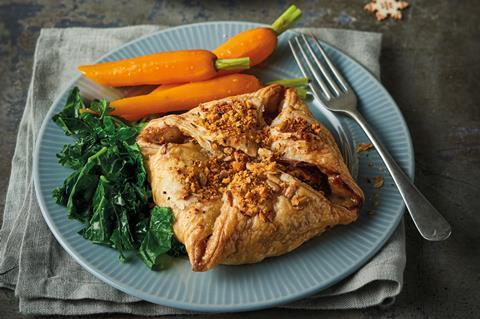 Priced at £4 each, these plant-based parcels from the Co-op's Gro range feature a root vegetable, orange zest and cranberry sauce filling encased in vegan puff pastry.
Morrisons
Tempura No Prawns and No Duck Spring Rolls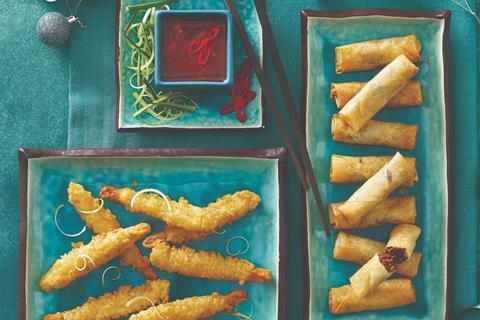 This Asian-inspired finger food should keep the vegan contingent happy before the main meal arrives. Both made using jackfruit and oyster mushroom, the 'no prawns' feature a light tempura batter while the spring rolls are wrapped in crispy filo pastry.
Beefless Wellington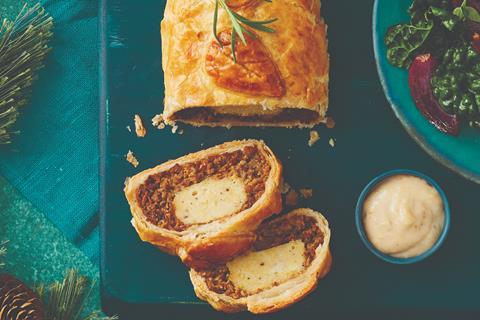 Crisp, golden puff pastry encases this festive vegan wellington, which features a cranberry, apricot and chestnut duxelle and a wholegrain mustard melt.
Free-From Maple Crumble Mince Pies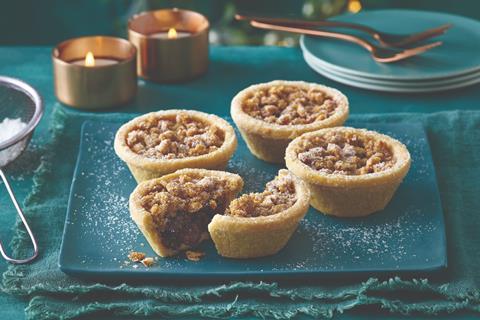 Both vegan and gluten-free, these miniature mince pies have a filling of raisins, sultanas and apple purée and a maple-flavoured crumble topping. Sold in packs of four.
Vegan Lemon Shimmering Semifreddo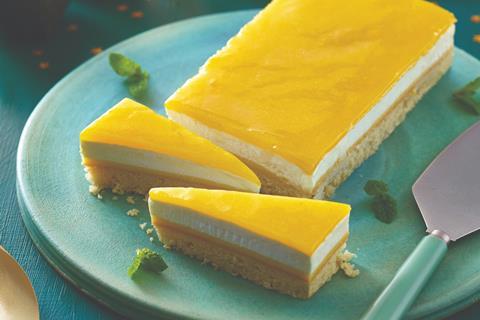 This zingy and refreshing vegan dessert has a vanilla sponge base, topped with layers of lemon sauce and semifreddo and finished with a glittering lemon glaze.
The Best Vegan Trifle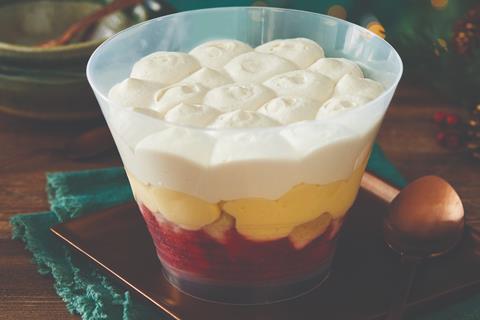 Morrisons has stuck to the basics with this vegan trifle, which features the classic combination of strawberry sauce, boudoir biscuits, vanilla custard and whipped vegan cream. Hand finished with a dusting of golden shimmer.
Free-From Chocolate Christmas Game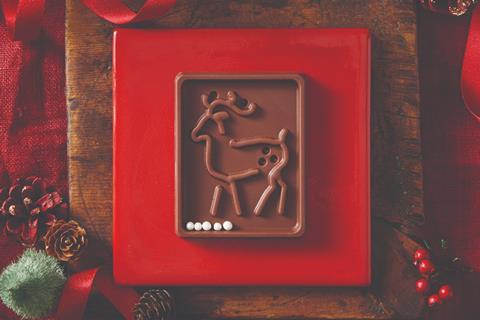 After-dinner entertainment doesn't come sweeter than this. Consumers must tilt the gluten-free and vegan chocolate board to get the balls in the holes, then reward themselves by eating it.
Supermarket Christmas ranges 2020
1

2

3

4

5

6

7

Currently reading

Range preview: supermarket vegan Christmas products 2020

8

9

10