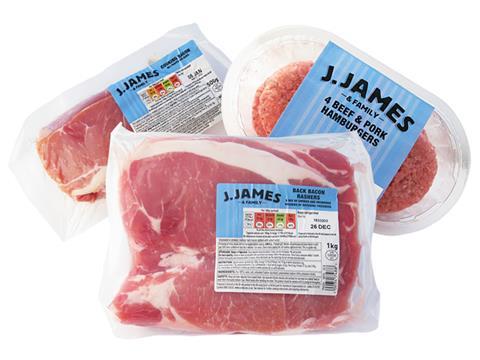 The 'fake farms' debate has reared its head again after Sainsbury's launched a new tertiary meat, fish and poultry brand carrying what the National Pig Association claimed were "confusing" provenance credentials.
Products under the J. James & Family label began rolling out on 31 October as part of a move to "simplify" the Sainsbury's own label range, the retailer said.
J. James is named after the retailer's founder John James Sainsbury, who established his first store in Holborn in 1869. A spokesman for the retailer said the brand "offers a range of traditional cuts and products with great quality and value", sourced from Sainsbury's existing suppliers.
However, the brand was criticised by the NPA, which questioned the often unclear origin of the 16-strong range's pork products.
"Although we appreciate it's not a 'farm' brand per se, J. James & Family is similar to 'fake farm' branding as it leads the consumer to believe it is a British product when in fact it covers both British and imported under the same packaging with no obvious differentiation," said NPA CEO Zoe Davies.
"This is confusing," she added. "Furthermore for online shoppers the J. James & Family gammon and bacon product information states only 'packed in the UK', with no mention of the country of origin."
In response, a Sainsbury's spokesman said it "continued to source British as much as possible and we clearly label all our products".
The J. James brand is pitched at the budget end of Sainsbury's own label offering, and follows the delisting of seven Basics own label meat lines since the start of October.
However, Sainsbury's said it still stocked some meat, fish and poultry products under the Basics brand, for example in cooked and sliced ham.
Products sold under the range are priced competitively. A 500g pack of cooking bacon is priced at £1 per unit (or £2/kg). This compares with £1.50 for the corresponding 670g Basics line delisted in October (or £2.24/kg).
The launch of J. James follows the unveiling of the Farm Stores range of budget fresh meat and fruit & veg by Asda last April, and Tesco's launch of its controversial Farm brands in March 2016, which prompted concerns from the farming community in particular, that shoppers were being misled over the range's provenance.
Tesco then unveiled a wholesale revamping of its own label offering last autumn, with the launch of tertiary brands including ready meal range the Hearty Food Co going on sale last November, bread brand HW Nevill's hitting shelves in January and meat brand Eastman's Deli Foods in May. Tesco's Creamfields dairy brand was launched in July.