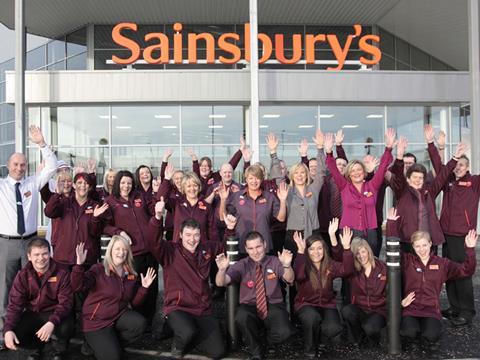 Sainsbury's has agreed to hold talks with the Unite union tomorrow in a bid to end the ongoing wrangle surrounding the supermarket's latest pay proposals.

The union will meet with Sainsbury's bosses to discuss a grievance from some of its 11,000 members regarding the retailer's plans to increase its hourly base pay rate by 8% - from £8 to £9.20 for UK employees and to £9.80 for staff in London's zones one and two - because it comes hand in hand with changes that could see take-home wages fall for some staff. These include the removal of pay for half-hour breaks in eight-hour shifts and 15-minute breaks in seven-hour shifts, along with overtime, Sunday premium pay and performance-related bonuses.

The rate, confirmed by Sainsbury's in May, will also remain unchanged until March 2020. Employees negatively impacted by the changes will receive top-up payments for 18 months from September to ensure "no colleague earns less than they do today", according to Sainsbury's.
Unite said the 123,000 Sainsbury's employees impacted until 23 September must agree to the terms and sign them the contract or face being sacked from the business.

Its national officer for the food industry Joe Clark accused Sainsbury's of "manufacturing a crisis," emphasising that the union is asking it to "draw back and avoid unnecessary confrontation".

"We accept that the contracts may be an improvement for a large number of Sainsbury's employees, however, many of the longest serving and older staff may be worse off - that's the position we are fighting to avoid," he added. "The headline figure of £9.20 per hour looks attractive, but, like the tip of an iceberg, there are many other issues lurking below the surface."

The union has also lodged an employment tribunal claim for compensation for members negatively affected by the pay changes. These can award claimants with up to 90 days' gross pay for failure of an employer to collectively inform and consult with employees dismissed on the grounds of redundancy.

Simon Roberts, retail and operations director for Sainsbury's said he is "proud" of the proposals, calling them "the right thing to do" for employees.

Its CEO Mike Coupe was given an annual pay package worth £3.43m after receiving higher annual performance-related bonuses.