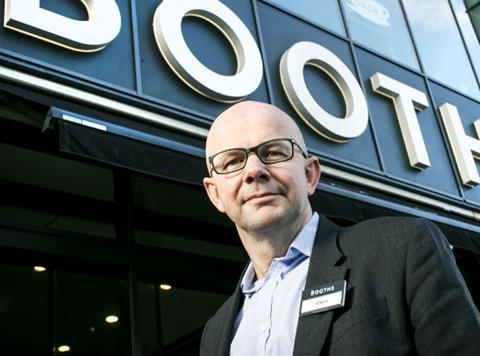 The leadership of upmarket Northern supermarket chain Booths is set to return to family hands as the retailer confirmed that CEO Chris Dee is to step down.
Executive chairman Edwin Booth is set to become chairman and CEO having decided not to look for a replacement for Dee in the short to medium terms.
Dee will leave on 30 June having agreed to remain with the business for a short period to help achieve a successful transition.
"Chris has been a friend as well as a colleague and I would like to take this opportunity to thank him for all his hard work, dedication and commitment to Booths over the last 22 years and we wish him success in the future," said Booth.
Dee took on the new role of CEO in February 2015 and at the time became the first non-family member to run the business in its 168-year history.
He originally joined the business as buying director in 2004 and became trading director in May 2009. He also served as chief operating officer for three years before his promotion to CEO.
A spokeswoman for Booths declined to comment on the reasons for Dee's departure but said it was an amicable arrangement. She also declined to elaborate on whether Dee was moving to a new role or not.
In its latest accounts for the year to March 2016, Booths sales fell 0.7% to £276.6m while underlying trading profits dropped 16.1% to £2.6m.
During the period the retailer was hit hard by the flooding caused by Strom Desmond which meant it had to close a number of stores for a time, directly resulting in a 1.4% loss in sales.
However in the accounts which were published in November it also revealed that it had shaken-up its management structure as it "was struggling to cope with the high demands attributable to improving customer experience while at the same time working more efficiently".
This involved removing a layer of senior management which resulted in the loss of around 100 jobs.