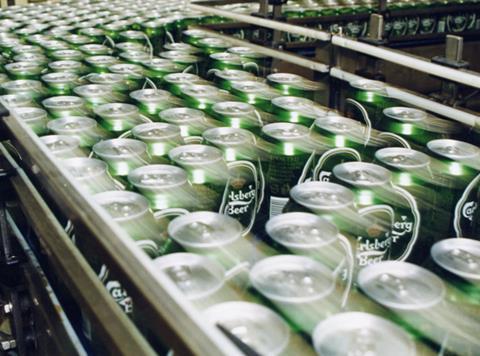 Trade union Unite has warned that production and deliveries could be delayed ahead of the crucial Christmas selling period after workers at Carlsberg's Bridge Street, Northampton, site voted on a work-to-rule/overtime ban.
The 89% vote in favour of industrial action arose from a global pay freeze, which the union said had left "a sour taste in the mouth".
Unite said the workers had not had a pay increase since April last year and the vote was "a shot across the bows of the bosses" at the world's fourth-largest brewer.
"If this limited industrial action does not bring the management to the negotiating table with a genuine pay offer, this dispute could well escalate into a full-scale strike with increased disruption to production and deliveries of the firm's premier brands," said Unite regional officer Sean Kettle.
"We are seeking a fair reward for the dedicated hard work that our members carry out on a daily basis in Northampton to contribute to Carlsberg's success."
Kettle said members believed the pay freeze was being imposed because of the company's "ultimately unsuccessful venture into the Russian market in recent years, which has now been affected by the dramatic fall in the rouble".
A spokesman for Carlsberg UK said: "In order to protect the long-term future of the business, a group-wide pay freeze was announced at the beginning of 2015, which affects all our colleagues in the UK.
"We have discussed this decision in detail with our colleagues and unfortunately are yet to reach a resolution with our brewery representatives."
He said a plan was in place to ensure any potential disruption to supply would be kept to a minimum.
"We remain open to ongoing dialogue in order to resolve this matter quickly, in a manner that ensures the long-term future of the UK operation."