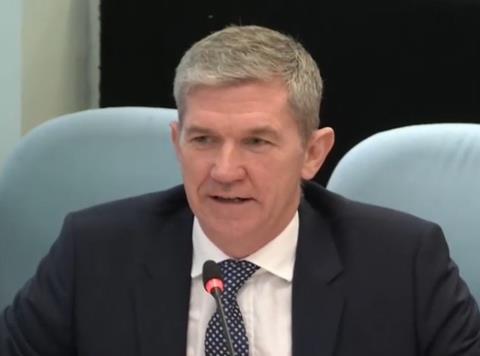 The Food Standards Agency has appointed Jason Feeney as its new chief executive, replacing the outgoing Catherine Brown.
Feeney began working in his new role as CEO today (11 April). He was previously the FSA's chief operating officer, having joined the regulator in January 2015, and has worked in the civil service for more than 35 years.
He started his career as an admin officer with the DHSS in 1981, before stints at the Benefit Agency, NHS, the Central Design Authority, the Pension Service and the Disability and Carers Service.
Feeney was appointed chief operating officer and deputy CEO of the Pension Service in December 2010, before becoming pensions director for the Department for Work and Pensions in October 2011 and benefits director a year later. He was made a CBE in the 2011 New Year's Honours List.
"We know Jason has a strong track record of delivering complex change across sectors," said FSA chairman Heather Hancock.
"That leadership expertise is what set him apart from a very strong field of industry and public sector applicants," she added. "I very much look forward to working with Jason to address the implications and opportunities for food regulation as the UK leaves the European Union, and to deliver on our ambition to modernise regulation, all whilst maintaining the high level of public confidence in the work of the FSA."
Feeney described his appointment as "a privilege". He said: "The work this organisation does is vital to the wellbeing and health of everyone in England, Wales and Northern Ireland and I will be proud to lead the dedicated and professional team that deliver it."
Predecessor Catherine Brown announced she would stand down from her role last December, after four years.
Her tenure at the helm of the FSA was largely defined by the horsemeat scandal in 2013, shrinking government budgets and the campylobacter in chicken crisis. Speaking at the time of her resignation, professor Chris Elliott, director of the Institute of Global Food Security, said Brown's successor would have to make it a priority to "address the appalling loss in scientific expertise the agency once boasted".