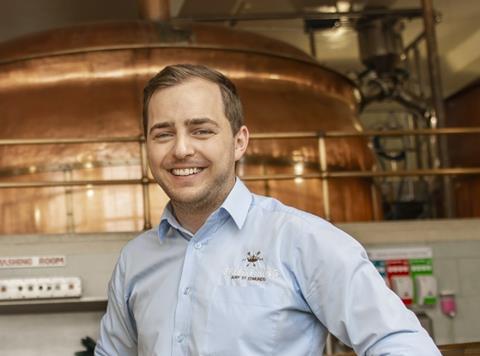 Greene King's NPD brewer has qualified as a master brewer - making him the youngest person to hold the title in the world.
Ross O'Hara, 28, netted the qualification from the Institute of Brewing and Distilling after four years of study alongside his day job developing new beers for the brewing stalwart. There are only 578 master brewers across the globe.
It had been "a lot of work to reach this level but well worth it", said O'Hara. "I had no idea I was the youngest doing the course. Greene King has been hugely supportive of me studying for the qualification, encouraging me to run with ideas and draw on the heritage of the brewery to develop interesting new beers."
In his time at Greene King so far, O'Hara has been responsible for developing brands the likes of Yardbird Pale Ale, Old Speckled Hen Gluten Free, Greene King's Craft Academy range and all of its seasonal beers.
It was a "fantastic achievement", said Greene King head of operations David Carr. "He is passionate about brewing and has exceptional technical ability as well as flair and innovation."
The news comes as sales of Greene King's brews are on the up. Its Greene King branded beers grew 7.7% (£1.7m) to £24.1m this year, on volumes up 9.7% [Nielsen 52 w/e 21 April 2018].
Old Speckled Hen's sales, however, dropped 2.8% (£1.7m) to £59.3m, with Greene King having recently kicked off a £1.1m push behind the brand, with an eye to re-imagining it for younger shoppers.