Douglas Lamont turned down far bigger pay cheques to work at Innocent Drinks. Jaded by the flagging entrepreneurial spirit at former employer Freeserve after its merger with telecoms giant Orange, he was looking for another small, fast-growing brand to get stuck into. "I literally got the FTSE Fast Track out and Innocent Smoothies was number two so I wrote to them," he smiles. "I had other offers from other companies for a lot more money but that moment sitting in reception I fell in love with the business and I took a risk to join it."
That was 10 years ago though. Since then the smoothie maker has moved from a "crappy industrial shed" in Shepherds Bush to its gleaming five-storey 'Fruit Towers' in Ladbroke Grove. It employs 360 staff. Turnover in the UK and Europe hit £259m (+18.9%) last year. And multibillion pound Coca-Cola owns a 90%+ share. So does the chief executive still think Innocent is the game-changing startup he fell in love with?

"Yes, definitely," he insists. "There's an inherent belief that we continually ask ourselves - 'why not?' rather than 'it's hard', and there are a lot of reasons why that won't work. The 'why not' culture is still there as it was in the beginning."

The UK HQ certainly does everything to resist a corporate feel. Staff pad back and forth along reception in socks. Guests are handed a sticky name tag. The famous 'Bananaphone' sits by a wall. And Lamont points out a picture of himself dressed up as a spaceman from an annual staff trip abroad.

All staff meet weekly on the ground floor (furnished with park benches and artificial grass) to throw around ideas and take turns to present on their progress, he explains, while nobody sits in teams to ensure all employees have an overarching view of the business.

The speed with which they brought Innocent Coconut Water to market in 2015 proves that entrepreneurial ethos has survived, he says. "It wasn't part of our expertise but it was clear there was a market trend, and within less than 12 months of thinking we needed to be in this space we were up and running with a product that's now taken nearly 40% market share."

The product was one of 2015's "big success stories" in NPD for Innocent, alongside the carbonated drink Bubbles and the low sugar Light & Juicy. Innovation overall added £28m of revenue growth. "That's a company that's 15 years old," he adds. "We can still be agile and that agility has been key to our success."

It'll become even more important as market boundaries in the category merge, too. "The rules of soft drinks are about to fundamentally change," believes Lamont, with all companies testing just how far their brand can stretch. "I'm sure people at Volvic and Evian, Pepsi and Alpro are saying what spaces do we start to move into, because consumers are looking for things in between the old historic definitions of what's a sparkling soft drink, a juice, a smoothie.

"For me and Innocent that creates a massive opportunity because we're nimble and can innovate, and have a brand that can stretch across different categories," he says. "That's the opportunity. We now have to do the work."

Backlash from anti-sugar rhetoric hasn't made that work any easier, though, with the chilled juice market down 4% year on year, he says, following a slew of headlines branding bottled juice the new junk food. Innocent has managed to beat the decline, though, with 3% growth year on year. "But I wouldn't describe it as easy," says Lamont. "What I think we, and the industry in general, are getting together to do more consistently is to land the health benefit messages, so hopefully those will start to counterbalance the argument. It's very easy to write the negative headline, and the message about goodness takes longer to reintroduce into people's minds. But we will do that."

As for Osborne's sugar levy, "others will have to deal with the consequences". The fact that the government stopped short of including juices and smoothies is "a positive endorsement".

In fact it was food that caused Innocent perhaps its biggest headache of 2015. After a relaunch of its veg pots in 2014 (six years after a first foray into food), Lamont took the decision last April to exit the category altogether, handing the baton to ex-Innocent food boss Paul Brown, who has since founded Bol. "It was one of those hard decisions actually because it was doing fine," reflects Lamont. "It was a £10m turnover business but what we had to do was pedal very hard to stand still. Drinks are getting even more frenetic in terms of the pace of innovation you need to have, but food is even more relentless and we were working very hard to do lots of innovation on a product that ultimately didn't fit a broader model of innovation we could roll out across the rest of Europe. It had a five-day shelf life so it was only ever going to be a UK product."

The loss swiped £7m-£8m worth of revenue off last year's results, he says. But as well as spawning yet another entrepreneur (see below), it freed up the team to take advantage of the opportunity in coconut water that could be worth £30m-plus going forward. "We took a risk by taking something off the table but it's enabled focus on new growth areas - that was the choice. For the long term it was definitely the right thing to do."

The decision wasn't responsible for operating profits spiralling down 111% last year to minus £0.7m either. In fact, that was all part of the business plan, the Innocent boss insists. "The brief I have is to reinvest all my discretionary profit for growth," he explains. "We've made sure we improve gross margin in line with revenue, so the fundamentals of the business are in a good place, but what we've then chosen to do is take the extra growth we've got and reinvest all of it.

"We could have chosen to go slower and make the profit but what we're doing is choosing to reinvest all the profit in a controlled way effectively down to zero. We've got a great opportunity to build this brand for the next 50 years. Now is not the time to take profits, now is the time to invest for growth."

Innocent invested more money in innovation and marketing last year than ever before, he points out, and rolled out Super Smoothies across its 14 European export markets, as well as launching into Sweden for the first time "when everyone else was hunkering down". Lamont is looking further afield too with a trial already up and running in Moscow.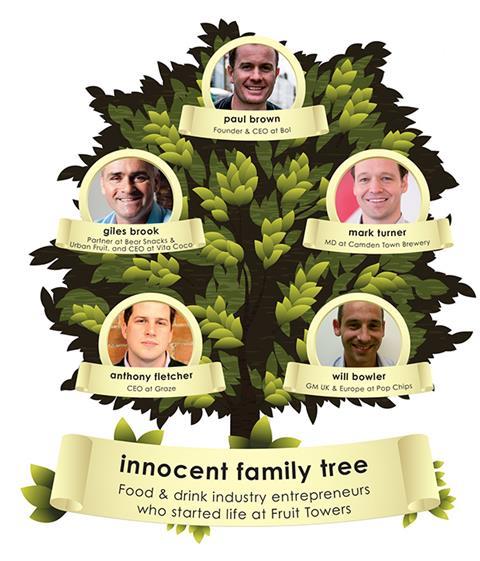 The cost of Brexit

Hedging his bets on international expansion leaves Lamont nervous at the extra work a vote for Brexit could mean, though. "The business reality is that if it's an exit there are a lot more challenges to think about than if we stayed in," he says. Two risks spring to mind. First that an exit leads to countries whacking new tariffs on agricultural imports. For instance "we have apple taxes in Switzerland that we don't have in the rest of Europe" he says. "The Swiss put a tax on them because they grow apples so it's more expensive to sell our products in Switzerland than it is in the rest of the EU."

Second, there's the issue of currency. "A big chunk of the cost of our product is in dollars so if the pound is weak and the dollar is strong, that's very painful for us. And if we exit, the dollar is only going to get stronger, and the pound is only going to get weaker, so in terms of managing profit it gets even harder if that scenario plays out."

Isn't Lamont ever tempted to escape these concerns and go back to the FTSE Fast Track for a new challenge? "I still come bounding into the office," he insists. "Here I couldn't be luckier in terms of the freedom we have to drive innovation, to drive growth, to get on and build the brand and the business."

And it's a freedom he insists that even the mighty Coca-Cola hasn't dared fiddle with. "The promise we always made to our consumers was to judge us if we change our standards, judge us if our values aren't the same, judge us if our commitments to sustainability or giving money to charity change, but none of that's changed over the last seven years. We're as innocent now as we were then."
Snapshot
Name: Douglas Lamont
Age: 42
Career: Joined KPMG Corporate finance as a graduate, then spent seven years at Freeserve, migrating from finance to a more rounded role including both innovation and infrastructure before joining Innocent Drinks in 2006
Family: Four children aged six, four, two and three months
Biggest career regret: That my career path didn't take me to Sydney for a couple of years
Career peak: Joining Innocent, although it was a bit of a step into the unknown
Business idol: Bill George, former CEO of Medtronic and author of Authentic Leadership, he built a global values-led business
Business motto: Find something you believe in and then work hard to achieve it
Hobbies: Watching and playing cricket and spending time with my family
Favourite film: Apollo 13 - for coming through in a crisis