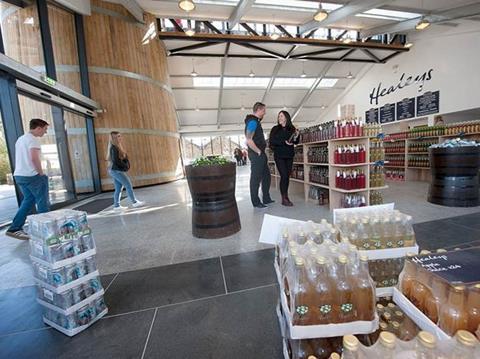 Healey's Cyder Farm in Cornwall has upped its workforce by a third on the back of booming sales and increased interest in its visitor centre.
Since opening its new production facility and visitor centre in March, the business has recruited 11 new full-time employees, This takes its permanent staff to 40, with around 20 of these in production, and the business also has 50 seasonal workers.
Healey's said it was now producing 3.5 million litres of cider, half of which goes to off-trade sales. The company supplies Tesco, Asda, Sainsbury's, Morrisons and The Co-operative Group in the South West with its branded range, as well as Marks & Spencer with own-label cider.
"With much greater production capacity than we had before we've been able to expand our out-of-county sales and, importantly, embed a route to market in the South East," said commercial director Joe Healey, adding the business had been working with Booker and Molson Coors and would be looking to build distribution.
"With the help of the weather and a predicted exceptional apple crop, we're looking forward to continuing growth and success in the months and years ahead," he said.
May half-term had broken all previous records in terms of visitors, added the business, which described the new centre as an "enormous draw".
"Tours alone have gone up by 60%," said Healey. "The extra space means customers have a lot more room to browse and that, in turn, has led to more purchases."