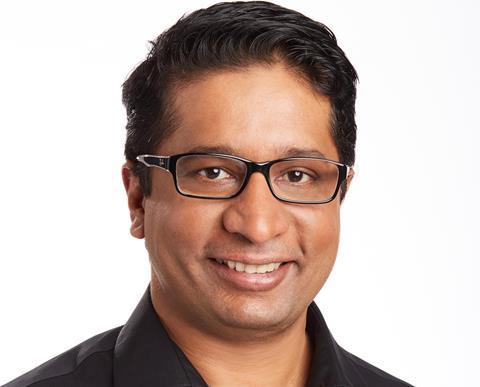 Deliveroo has appointed long-time Amazon executive Devesh Mishra as its new chief product and technology officer.
Mishra had been with Amazon for 16 years, working most recently as VP, global supply chain, where he oversaw a team of thousands of engineers, data scientists and product managers.
In the role Mishra "built and operated the world's most technologically advanced supply chain" Deliveroo said, while managing "one of the largest inventory pools in e-commerce globally".
At Deliveroo, Mishra will take responsibility for Deliveroo's technology organisation, which encompasses the company's engineering, data science, design and product development functions. The organisation is set to expand, with Deliveroo creating 400 additional high-skilled tech jobs across a range of skillsets, including software engineers, product managers, user researchers, designers and data scientists.
Upon starting in the role in September he will report directly to the CEO Will Shu, and will sit on the executive team.
"I'm a builder at heart and love building cutting-edge technology and products to provide the best customer experience and scale businesses globally," Mishra said. "We are at the inflection point in how our customers eat and their relationship with food. I'm excited to be part of a company leading that change in such a large and important market.
"Deliveroo has reached a super-impressive scale with an impressive growth rate, but there is a lot of opportunity ahead and lots of building to do. I am thrilled to be joining this winning team and contributing to the entrepreneurial and innovation culture."
Deliveroo's current chief technology officer, Dan Winn, will continue in the role, working closely with Mishra, the company said. Chief product officer Akshay Navle, is leaving the company, moving into a role at a "high growth scale-up in the fintech space".
Shu said Mishra was a "world-class tech talent" with "unmatched experience".
"He will help take Deliveroo to the next stage in our journey, [and] work with the team to ensure we are delivering unique experiences for our consumers, restaurant and grocery partners, and riders, as well as developing new innovations as we seek to become the definitive online food company," Shu said.
Earlier this year, Deliveroo appointed another long-time Amazon exec into its ranks. In January, Eric French was named Deliveroo's chief marketplace officer, responsible for rider operations, restaurants, grocery and Editions functions. He had worked at Amazon for more than 15 years in senior finance and operating roles.