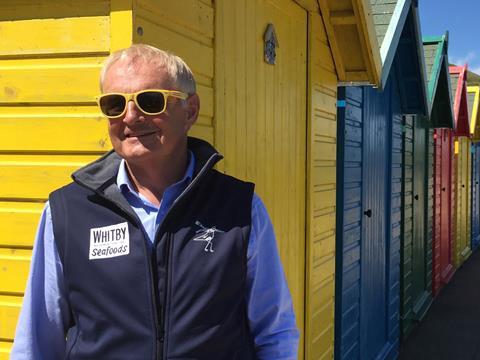 When Graham Whittle splashed out £84,000 on a failed fish factory in 1985, the first thing to greet him when he threw open the doors to his new empire was the reek of rotting fish. "The factory hadn't worked for six months," he laughs. "The smell was extraordinary."

He can smile about it now, but at the time it was "terrible" - although it helps that 30 years on he's standing in a gleaming replacement, recently upgraded with equipment worth millions. It's 10 times the size of the first. And the only aroma that comes to mind is the saline scent of freshly shucked oysters on a bed of ice.

The place is humming with stainless steel machines, their conveyor belts studded with glistening pink globs of just-peeled langoustine tails. There are other machines at work, but Whittle won't talk about those, delivering a hushed talk about patents. He's more than happy to talk about scampi, however, which is just as well. Its controversial history demands attention.

Scampi is a mischievous name for a mischievous little thing. At its best, Brits enjoy scampi as a whole langoustine tail, coated in breadcrumbs and deep fried until hot, crispy and gold, and lightened up with a splash of lemon juice and a dab of tartare sauce.

At its worst, the British endure scampi as a mushed-up ball of questionable substitutes, from minced up monkfish to the more exotic Vietnamese farmed pangasius catfish, a four-foot beast that is rather less easy on the eye than a pretty pink langoustine.

Over the years, this dubious end of the market has earned scampi a reputation as a deceptive mouthful that purports to be something it's not, anathematic to post-Horsegate, foodie Britain. And just to rub it in, scampi has forever been derided as a 1970s pub relic served up in a naff wicker basket.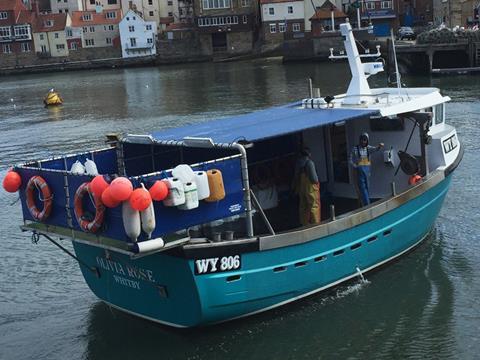 All in all, it's a curiously hostile situation for the langoustine, the leonine lobster's smaller, sweeter cousin, to find itself in. And as a leading scampi producer for 30 years, Whittle, who swells with pride when he talks wholetail but also produces bags of scampi 'bites', made with 7% langoustine and 30% cod, finds himself centre stage. So what does he make of it all? If he could go back in time, before 1985, before the original scampi-chancer first padded out the product, would he erase the scampi bite from existence?

There is a long pause. "I think I'd still do them," he says, finally. "There is a magic around the word scampi. We've called them 'cod bites' and they didn't do very well. And people who can't afford the premium product can afford the bites. We credit consumers with the intelligence to know the difference. There are lots of cues to tell people about the relative quality of the product and one of them is the price."

This is true. Today, at Tesco, Whitby Scampi Bites are on offer at £2.50 for two 250g bags, while a single 225g bag of Whitby Whole Scampi costs £2. At 45% cheaper, it's almost half the price.

"If you're on a tight budget and you have kids, scampi bites for their tea makes sense. The success we have had with bites has been down to the line-caught cod we use. The whiteness is really important. Pangasius, or basa, does not go anywhere near our scampi."

Nowadays, people "care more about food", he continues. "There used to be crap beefburgers, catering sausages and horrible pies. Now all three are all about quality and provenance. When I started, scampi had all sorts of stuff in it, like texturised vegetable protein, soya powder and milk powder. It was just like paste."

Right on cue, a plate of the real thing arrives. It's 9.30am. No matter. We munch and talk about how Whittle, the youngest in a long line of family butchers, ended up dealing with fish, not flesh.

"Ridiculous ambition over reason," he says. "I wanted to do more than work in a shop in Preston. Plus, lots of streets had two or three butchers, but the arrival of the supermarkets decimated them. I vaguely remember a large mill that Associated Dairies bought, which was the beginning of Asda."

Whittle studied food technology in Grimsby before moving into marketing, all the while keeping his ear to the ground. "Back then the big noise was about disposable income and eating out, no cooking, no washing-up. McDonald's was just arriving. And if you analysed which areas were growing fastest it was the pubs, which were starting to sell a lot of seafood."

Eventually he was "inspired" by the idea of running his own business. "Someone said 'What are you doing about it?' I said 'Not much'. He said 'Read the FT on a Tuesday when the businesses are for sale'. So I opened the FT the next Tuesday and the Whitby Shellfish Company was for sale and all the dots joined up".

Whittle raised the required £84,000 through a second mortgage ("my wife wasn't entirely happy") and some friendly investors and rebranded the company Whitby Seafoods. "I'd never run a business before. I had a smelly old factory and no money and I wasn't entirely sure what scampi was. But I knew caterers were buying scampi. They just didn't know what was good or bad scampi so they bought the cheapest. We set out to make better-quality scampi."

He cleaned up the original factory and got to work. By 1995 he was turning over £3.5m and employing 77 people. By the millennium sales were £10m. Last year sales hit £40.3m and pre-tax profits nudged £1m. And it's all being sunk back in to set the business up for what Whittle predicts will be a stormy time for seafood.

"We made £6m of acquisitions in the last five years and spent another £6m on equipment. All our profit and more has gone back into the business. If you look at the track record of seafood it's a graveyard. The greatest thing you can do is survive and there has been a lot of rationalisation and people have lost a lot of money. So it's not that attractive to outside investors."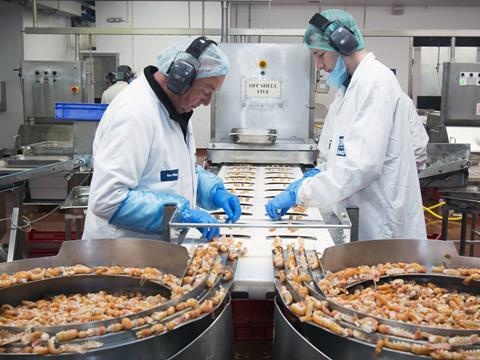 That suits his children. Supply chain director Edward drives a modern blend of efficiency and sustainability, MD-in-waiting Daniel returned home from a burgeoning career in the City, and effervescent marketing director Laura bubbles over with enthusiasm for the product.

"They are passionate about it so I couldn't possibly think about selling it," says Whittle. "At times we have to force ourselves not to sit around all night talking about scampi. Last Saturday was my day off and I went to Wetherspoons to eat the scampi we supply them."

Sales-wise, Whitby Seafoods (which also produces other products, such as lemon goujons and battered cod) is split 30% retail and 70% foodservice. "We lost a bit of foodservice business and we are trying to get it back, but other than that we do everyone in foodservice," he says. "We are not making retail own label for the big four, but that might change."

They do make own label for Aldi and Lidl, however. "With Aldi and Lidl there is no faffing about. They are decent. When they say they need so much, they take it. A typical large multiple has a range of products, a whole load of compliance baggage and a specification manual inches thick. With the discounters there is one product and one page of specification. They are tough when it comes to negotiating on price but you can get to that price because you haven't got all the other stuff to deal with. We have been supplying Lidl for 15 years."

Coincidentally, Lidl is currently running a TV ad that shows its own-label scampi being voted nicer than Young's in a blind taste test. "Good timing," he laughs.

Glastonbury

In 2014, Whitby decided on a change of image. It rejoiced in scampi's 'retro kitsch charm' on Instagram, drove a food truck to Glastonbury where it served up 2,500 portions to hungry festivalgoers and saw its branded beach balls bouncing around the Pyramid stage. But to really drive the rebrand, Whitby hired design agency Big Fish, which told them to change "absolutely everything. It was quite hard to say goodbye to the old logo but we decided the seaside feel was more appropriate."

And Big Fish made a big difference. "Waitrose listed us off the back of the new packaging alone. Sainsbury's relisted us. We have more products in Morrisons and we had some regional listings in Asda that went national." Whitby didn't expect sales to "increase 30% overnight but we wanted to see an increase in frequency and penetration," says Laura. "It's definitely succeeded in doing that. It was a gamble, but now we have a new image. We are more approachable and personable."

Yet Glastonbury is leagues away from what Whittle describes as a "brutal" seafood sector. Norwegian giant Marine Harvest is making waves and Young's recently lost a valuable Sainsbury's own-label contract to them.

"It's tough out there. It didn't come as a surprise to the directors at Young's, I am sure. If we were in the business of selling fish or whole langoustine we would be more at risk, but we are an added-value product and we are not reliant on own label. And the two biggest own-label contracts are Brakes and Tesco, and we don't have either of them, so that's alright!"

Would he take them? "Yes, but not to not make money. That's why we don't have them. In a lot of food manufacture, and I only really know the seafood industry, the margins are so thin."

So how does he feel about reports of fellow manufacturers hiking prices to cope with the rising price of raw product? "I agree. Get the bloody prices up!"

Sunshine

With that, the only sensible thing to do is to eat more scampi, so we head into Whitby, aiming for Quayside, the best chippy in the country according to the National Fish & Chip Awards. It's been supplied by Whittle for a decade. The sun is out and the twisty roads in town are bustling with busy shops, locals and tourists.

"When I was young, I always thought Whitby was like the Morrissey song 'Everyday is like Sunday'," sighs Laura. "'This is the coastal town they forgot to close down.' But that's all changed now."

It's a glorious day by the great British seaside. We walk along the seafront, past technicolour beach huts bathed in sunshine, while pink Brits sprawl in deckchairs nodding off into newspapers. We tuck into more scampi. It's wholetail, naturally. But suddenly scampi semantics cease to matter.
Snapshot
Age: 64
Status: Married, three children
Best career decision: Employing my children
Worst career decision: Investing outside the seafood industry
Best advice I ever received: Read the Financial Times
Best way to prepare scampi: Put them on a tray with some oven chips, and a tray of Lidl's mixed Mediterranean vegetables. Twenty minutes later, with a glass of wine, you've got a fantastic meal
Favourite meal that isn't scampi: Lightly grilled Dover sole
Last good film: Nebraska
Last good book: The Assassination of Margaret Thatcher by Hilary Mantel. It's excellent
Business mantra: To wow our customers with bloomin' special seafood