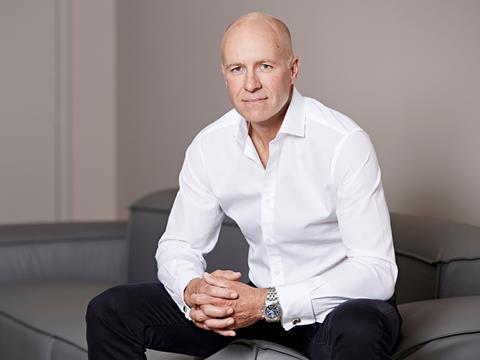 Baby and milk are two of the most innocent words in the dictionary, but put them together and all hell breaks loose. For starters, the 'breast is best' debate remains endlessly contentious. As someone right in the middle of it, is Danone Nutricia Early Life Nutrition's UK MD James Mayer sick of it?

"No," he replies. "For the first six months a baby should be breast-fed. For mums that choose not to or cannot, there needs to be an alternative."

It's the party line because it neuters debate. Even the most zealous breastfeeding advocate would accept the necessity of a breast milk substitute where breastfeeding is not an option.

Far more contentious are the 'follow on' milk products for toddlers, which stand accused of everything from exploiting mums to being a rip-off, based on the theory they are both unnecessary (because cows milk does a perfectly good job) and expensive (Aptamil follow on milks cost around 10 times the price of regular cows milk). So are those criticisms fair?

"No, it isn't fair. My description of what our product is wouldn't start with cows milk. It's nutritionally adapted to the needs of a toddler. It's high in iron and vitamin D, which are deficiencies that a toddler sees, and something cows milk cannot deliver in the same way. And if I compare the cost of infant formula in the UK and around the world, the UK is still one of the best value for money markets in the world to buy formula. So do UK mums get a fair deal? Yes they do."

Still, no one knows more than Mayer that it's a "really sensitive area. I'm a lucky guy to have this job because we are a company which stretches from consumer goods back to pharma. We have products that are prescription only to support premature babies and their mothers, and we work in fast moving retail channels. We are talking about babies and toddlers. There is huge passion and emotion around babies and toddlers that generates fascinating debate from all sort of perspectives."

But he doesn't believe the negativity around follow on products is responsible for their falling sales.

In 2016, sales of Aptamil First Infant milk were up 3.2% but sales of Aptamil Growing Up milk and Aptamil Follow On milk were down by a combined 12.9%. In the same fashion, sales of Cow & Gate First Infant were up 0.8% in 2016 but Cow & Gate Growing Up milk was down 12.2%. But instead of the 'breast is best' movement, he points to China as the reason why.
Snapshot
Age: 47
Status: Married with three kids aged 13, 11 and five
What is the best career advice you received? Always look forward
And the worst? Stay put, the opportunity will come
Best advice you would give a budding MD? Build up the broadest range of experience you can
Last good book: The Kite Runner. I've been meaning to read it for years. It was amazing
Last good film: I've recently got into James Bond, and Skyfall is my favourite Bond movie
Last good music: Coldplay
Favourite way to relax: Watching and coaching sport: football and rugby
Favourite meal: That's easy - Thai green curry. I even had it on my wedding day. A vegetarian one for my wife and a chicken and a beef one for me
China

Which is interesting, because one place with nothing but love for British baby milk formula is China. Unfortunately it's for the worst possible reasons. In 2008, an adulteration scandal involving melamine being added to formula milk left six babies dead and 300,000 seriously ill.

The legacy was mass mistrust of domestic milk formula across China, leading parents to buy imports from leading brands in Europe, including Aptamil and Cow & Gate. This enormous surge in demand peaked in 2013 when supermarket shelves were stripped bare by opportunists looking to sell to the Chinese via eBay.

If you're a parent that relies on it, formula is not a product you want to run out of. To calm fears, rationing was introduced by the big four at the request of manufacturers and parents were limited to two tubs per visit. As the extraordinary scenes played out, Mayer took over as UK MD.

"I'd had 13 years at Danone so I was well aware of the dynamics of the market but it was a phenomenon," he says. "For a while we saw a very dramatic growth in consumption by Chinese mums and we responded by putting down new manufacturing capacity. Since 2009 we have increased capacity by 20%. And we are in a much more balanced supply and demand environment. We can make sure we have full availability for UK mums, which is our number one priority, no question."
But he describes the demand as "volatile", which means when Danone looks at total sales, it is "hard to read what is happening domestically. It's hard to separate what's going to China and what's being consumed in the UK. If I look overall there is modest growth in the UK, with the nature of Chinese sales impacting on certain categories more than others, and Follow On and Growing Up milk are those affected."

Unpredictable fluctuations aren't only blowing in from the East, however. But Mayer is clear that the 10% price hike (to £11 for a 900g tub) reported by The Sun in November had nothing to do with Brexit. "We had adapted the prices of some of the range in the autumn but we had that in play before the vote. We hadn't had a price rise in Aptamil for three years. It was right for us to reflect a new price point to reflect the increased costs we had. And I have no other plans to make any price changes in 2017."

We were very clear we wanted the UK to stay in the EU. We continue to think about where we might have to change our model, but we are just trying to guess about what may or may not happen, but we will adapt as necessary. But, inevitably, he has "faced input rises" post-Brexit. "Most of our milk comes from Ireland so we have faced rises of raw materials, and there is the exchange rate. We buy so many products, and the changes can be quite volatile, but we are looking at quite a few, single-digit, rises in input costs. So we have thought hard about how to manage the situation through 2017. And we have no more plans for price rises in 2017."
And 2018? "Let's deal with what we can see in front of us. None of us quite know what's going to happen. I can't say what might happen after 2017."
"We are trying to live up to our commitment on nutrition, It's almost an obsession"
He's also not overly concerned by other potential distractions, like Aldi, which has ripped into the baby category, hitting Pampers in the pocket to the tune of £45.4m. Aldi's Mamia range is now the second-biggest own-label baby range in the UK after Tesco Loves Baby. And in November it launched its first foray into formula, charging £6.99 for a 900g tub.

"There are always going to be new entrants into the market," says Mayer. "And in some ways I welcome that, innovation and different propositions are the lifeblood of any category. If you don't have activity in a category it becomes stale. So competition is good to bring dynamism and it makes you think.

"[But] private label typically has a low share. That says something around how you build formula milk brands. They are rooted in generations of science, they are supported by healthcare professionals, and mums will help others work out which brand to choose via word of mouth. So, globally, people have found it difficult to enter with a proposition without the same underpinning. There is a huge trust thing there. We have the highest levels of focus on quality because we have built trust for generations. And we want to keep it."

He's also innovating hard, particularly when it comes to nutrition, adding 'Super Yummies' baby snacks to the Cow & Gate portfolio, cutting out added sugar and salt in 98% of the Cow & Gate babyfood, and committing £1m to the Early Years Nutrition Partnership social enterprise. "We have taken out whole ranges, like baby juice, because we weren't comfortable with it in our portfolio because of the sugar in it," he says. "We are trying to live up to our commitment on nutrition. It's almost an obsession".

And it's probably also a welcome distraction.