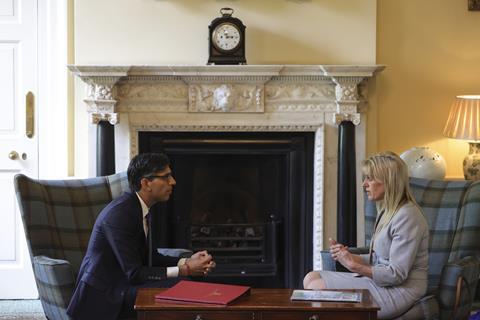 Minette Batters has confirmed she will be standing down from her long-running role as NFU president in February.
After a decade at the sharp end of food and farming policy, Batters described the move as a "tough decision" in her opening message in the October NFU Magazine.
The Wiltshire-based farmer served as NFU deputy president from 2014 to 2018, before being elected as president in February 2018, succeeding Meurig Raymond.
"Ten years is a long time and I know I've given it my all but it's time for someone else to take the lead," she added.
"But in the meantime, there's a huge job to be done and I remain determined to deliver what's needed for you, our members."
She was the first woman to be elected president of the NFU, beating former NFU vice president Guy Smith, who also ran for the presidency.
Under her leadership, the NFU and the wider food sector has had to contend with the impact of Brexit, the Covid pandemic and most recently the cost of living crisis, which was exacerbated by the war in Ukraine and drove a parallel inflationary crisis across the farming sector.
She said there had been "not a playbook in history for the events that have unfolded".
Batters' tenure at the head of the farming union also saw it agree a target of net zero greenhouse gas emissions by 2040, while she has campaigned for better trade deals which support British farmers and has called for more support from the government across a host of agrifood sectors.
This year she has worked to hold prime minister Rishi Sunak to account over falling UK production and has called on the government to prioritise self-sufficiency.
"Minette Batters made history as the first woman president of the NFU and she adopted a focus on campaigning during her tenure," said George Eustice, MP and former Defra secretary. "I wish her well in whatever comes next."
Batters is in her third term as NFU president, securing over 75% of the vote in her third election victory. Previously she served as a county chair, as Wiltshire's NFU Council delegate and also as a regional board chair for the south west.
Batters has also been an ambassador of charity Farm Africa and was made a deputy lieutenant of Wiltshire by Queen Elizabeth II in 2021.
She co-founded the Ladies in Beef group and spearheaded Great British Beef Week, a consumer marketing initiative promoting cuts of British-reared beef, prior to her election as NFU president.
"We would like to thank Minette for the exceptional commitment which she has shown in championing the farming sector during her time as president of the NFU," said Efra Committee chair Robert Goodwill. "Minette's passionate advocacy has played an undeniable role in raising the profile of agricultural issues, throughout turbulent times for the industry."
He added that the committee commended her work and that it looked forward to continuing its engagement with the NFU.