Commit to closing the gender pay gap
On the final day for submission of gender pay gap reports by companies with more than 250 employees, I was in our Anfield depot hosting a visit by Dan Carden MP. He met staff and discussed FWD matters, wholesaling in general and employee ownership. This followed a similar visit in January by Bill Esterson MP. It was also the day Theresa May announced the latest of her increasingly desperate butterfly attempts to connect with the electorate, this time her "sense of burning" injustice at pay inequality.

I was delighted to be able to tell Dan that Parfetts is one of the 8% of companies reporting a zero gender pay gap at the median level. I think there may well be confusion with the government requirement to report at both median and mean level, but The Times, Financial Times and BBC are taking the view that the median is the key statistic. The national median gap reported in the press was 18.4%.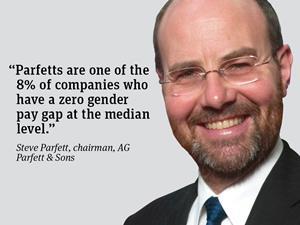 We are not complacent about our performance in this important matter. Our mean pay gap is 12.1%, and we are committed to both dealing equitably with all our employees and to continuing to encourage female participation at all levels, especially senior management. We do have a number of excellent female senior managers, including our first female general manager, Becky Webster, in Halifax. Becky spoke eloquently and honestly at last year's Women in Wholesale conference and we have increased our backing for this event with another senior manager presenting this year as well as Greg Suszczenia, joint Parfetts MD, participating as a mentor this year.

The pay gap, no matter how important, is not the only pressing matter for the industry, of course. Last year was one of unprecedented change in UK grocery in general and wholesale in particular. Anyone who thought we were in for some respite from that turmoil has been rapidly disabused of that notion by events already in 2018.

We are an employee-owned organisation and care deeply about our workforce. However, I would never claim that employee-owned businesses are unique in this respect, and I know that most businesses, particularly small and family-owned ones, place huge value on their people. This makes the human tragedy of the demise of P&H last year, job losses at Kerry this year, the uncertainty at both Blakemore about its future and the inevitable effect on jobs of the realisation of synergies at both Booker-Tesco and Bargain Booze even more real.

Our sympathies are with all those affected, male or female - GroceryAid will need our increased support to continue its good work with them.

Steve Parfett is chairman of AG Parfett & Sons