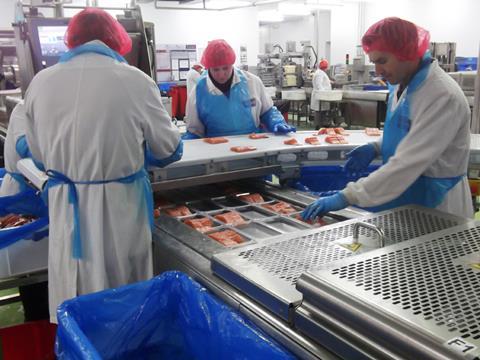 Young's Seafood stands to axe more than 900 jobs as it considers closing two Scottish processing sites following the recent loss of a major fish contract with Sainsbury's.
The processor said on Thursday (9 July) it would shortly start a formal 45-day consultation with staff and their representatives at its Fraserburgh and Spey Valley sites "to explore proposals and possible options for the facilities".
It comes after Young's lost a smoked salmon and fresh salmon processing contract to rival Marine Harvest. Once processing for Sainsbury's ends in November, the two sites would be "significantly under-utilised", the company said in a statement.
It was therefore proposing the integration of remaining customer contracts and volumes from the facilities into its manufacturing sites in Grimsby, Livingston and Annan.
If the closures of Fraserburg and Spey Valley go ahead, more than 900 jobs could be lost across the two sites.
However, Young's said some 200 new jobs could be created in Grimsby, Livingston and Annan at the same time.
Young's said the re-organisation of its business into a more "sustainable manufacturing footprint" would make better use of its existing resources, particularly in Grimsby, which had been braced for the closure of its Marsden Road manufacturing site when news broke of the Sainsbury's contract.
"Today's announcement does not reflect on the skilled teams at Young's Fraserburgh and Spey Valley, who are committed, dedicated and continue to work hard through this time," said Pete Ward, CEO of Young's Seafood Limited.
"This process will not be easy, but we have to face some tough decisions and we believe the proposals outlined today could deliver a significantly more sustainable manufacturing footprint than other potential consolidation options."