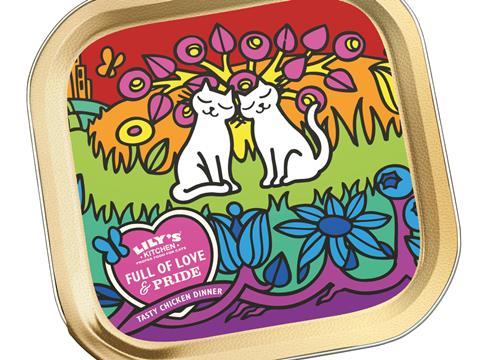 Premium petfood brand Lily's Kitchen has added Full of Love & Pride - special-edition packs in support of LGBT+ equality.
Available from 1 June, 75p from the sale of every tinned Tasty Beef Dinner for dogs (rsp: £2.49/400g) will go to international charity Stonewall, which will also receive 30p from each Tasty Chicken Dinner cat tray sold (rsp: 95p/85g).
"Pets can teach us a thing or two about love," said Henrietta Morrison, founder and CEO of Lily's Kitchen. "They don't distinguish between gender and will love unconditionally, which is something we at Lily's Kitchen are really excited to celebrate.
"This is demonstrated through our partnership with Pride in London, which is supported by people of all sexual and gender preferences who believe, like us, that equality should be celebrated."
The brand's support of LGBT+ equality was "also about who we are as a business and our belief that pets make a family, and they deserve proper food, whatever shape or size they are, and from whatever background" Morrison added.