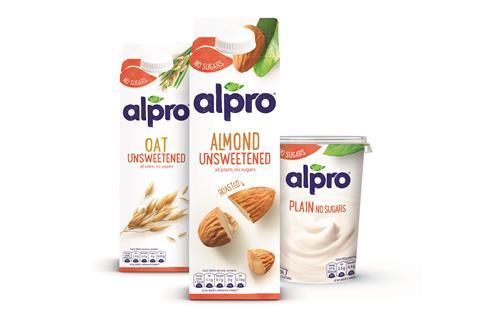 Alpro has announced an ambitious five-year health and sustainability action plan designed to accelerate its environmental ambitions and support a global shift towards plant-based diets.
The plan, announced today as part of the Danone-owned brand's 40th birthday celebrations, also includes a €30m capital investment in production facilities and feed into the plant-based giant's ambition to become a climate-neutral business by 2050.
Among a series of "concrete ambitions" for the company to achieve by 2025, Alpro has committed to reduce its water footprint per product by 60% and to cut its greenhouse gas emissions in operations by 30% per kg product, while also sourcing half of its energy from renewable sources.
Presenting the plans at Alpro's Wevelgem headquarters in Belgium, general manager Sue Garfitt added the supplier also planned to increase the percentage of recyclable packaging it used from 76% today to 100% by 2025 – starting with a shift to cardboard cups for its yoghurt alternatives next year.
The brand also planned to define "clear action plans" for the transition to regenerative agriculture, focusing on biodiversity and water use in particular by 2025.
And in a parallel push to promote an increase in flexitarian diets globally, the brand will also look to diversify its ingredient portfolio by using at least nine different plant-based ingredients (compared to seven currently) and ensure 50% of its products are a recognised source of fibre (up from 36% today).
Alpro also intended to apply "transparent, easy-to-read front-of-pack nutrition labelling to 100% of products", it said.
Meanwhile, its plan to invest €30m in production would be centred around its Kettering site in Northamptonshire and at Wevelgem, with investment at Kettering to develop a new high-speed packaging line to produce 75 million extra packs of soya, oat, rice and coconut drinks a year.
"We are leading a worldwide food revolution by creating a broad plant-based category which is becoming an indispensable part of a healthy and sustainable life," said Garfitt.
"The diets we have adopted are no longer sustainable for the planet, so we have to change the way we look at food production and consumptions. Millions of people are more aware of the personal and environmental benefits of plant-based foods and our mission is to achieve a fundamental dietary shift to more plant-based eating by 2025."
Danone CEO Emmanuel Faber, who was also present at the event, said Alpro's plans tied in with Danone's One Planet One Health messaging.
"I am very encouraged that policy-makers are beginning to recognise the importance and urgency of evolving the food system towards a more sustainable path, working with nature instead of against nature," Faber said.
"We welcome strong international commitments like the European Farm2Fork strategy . This initiative encourages consumers to adopt healthier and more sustainable eating habits, including more plant-based foods and drinks as part of the planetary diets scientific experts are calling for," he added.
"It shows how the trend towards healthy and sustainable products is becoming unstoppable and the role food companies play in supporting flexitarian diets that are good for the planet and good for health."