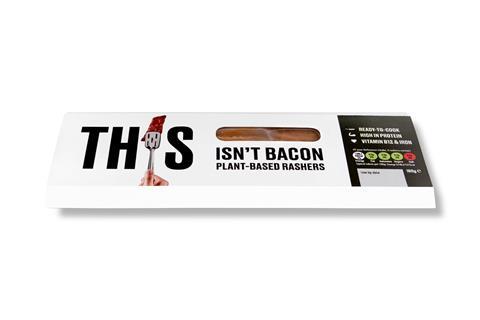 Plant-based brand This expects to make at least £1m in retail sales during Veganuary – 40% of its total sales last year – after selling more than £300,000-worth of its products in the first week of 2021.
The brand, which registered retail sales of £2.5m last year [The Grocer Top Products Survey/Nielsen 52 w/e 5 September], said it was on course for a bumper year on the back of record signups to Veganuary 2021 – with the event's organisers saying more than 500,000 participants had already committed to its annual 31-day vegan challenge.
"With Veganuary beginning in lockdown this year, we weren't completely sure what would happen," said This co-founder Andy Shovel.
"While people have been ordering dishes with our products via online takeaway, our restaurant sales are naturally down compared to last year, but our boost in retail sales have compensated for this loss."
This also launched this month into foodservice outlets Bone Daddies and Rosa's Thai Cafe, and said its bestselling SKUs had been its bacon alternative and chicken alternative salt and pepper pieces.
It comes as a poll of 3,000 British consumers by Quorn earlier this month revealed that 60% wished they ate less meat, with 51% wanting to boost their health and 37% wanting to be kinder to the planet.
However, 54% said they ate meat for "almost every meal", while just 20% said they were actively trying to include more plant-based dishes into their diet. This points to ongoing barriers in persuading more shoppers to reduce their meat intake – a trend reflected in booming sales of meat during 2020.
"We're at a pivotal moment for our planet," said Quorn CEO Marco Bertacca. "That is why making it easy, tasty and healthy for everyone to reduce their meat consumption has never been so important.
"Our research has shown quite how much appetite there is," he added.